Have you waited for a makeup package for weeks only to find broken products inside? Dropped your limited edition ABH x Mario eyeshadow palette on the floor? Or do you just have an unexplainable desire to repress all of your eyeshadows into pans of the same exact size? Whatever the case, now all your makeup can finally Stay Pressed™.
The Stay Pressed™ kit enables you to easily press and re-press powder cosmetic products. Each kit is comprised of one handle and one or more of our Stay Pressed™ bases, depending on your need. We offer over 50 bases, covering over 50 unique brands. We are always keeping an eye out for new products (and pan sizes) hitting the market. If we don't have a press for your pan, send us an email at day@legallyblackbeauty.com.
To learn how to use Stay Pressed™, click the link below.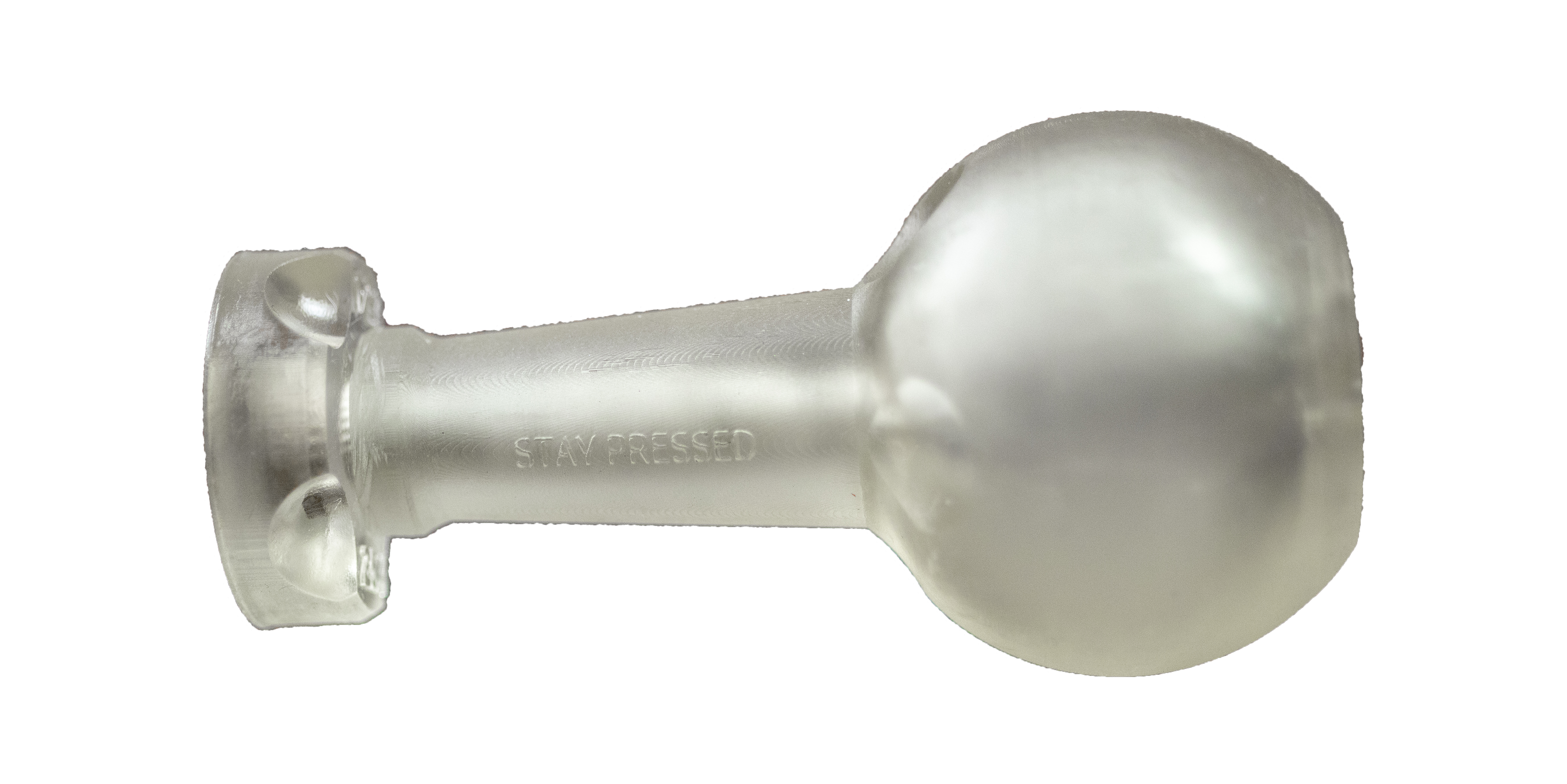 The Stay Pressed Handle
Each kit comes with a clear handle, which allows the user to see the powder product.
The Complete Stay Pressed Set
The complete set includes 52 bases that are compatible with over 50 different brands.
Complimentary Storage Bag
Each kit comes with a small complimentary bag to hold all of the pieces of your Stay Pressed™ kit.
Brand Compatibility Chart
Shape

Name

Compatible Brands and Products

Becca Cosmetics - highlighter (full)
JD Glow - highlighter
MAC - Skinfinish, Next to Nothing powder, Prolongwear powder
Smashbox - Petal Metal highlighter
Give Me Glow - highlighter

Colourpop - highlighter and blush

MAC - blush
Sydney Grace - highlighter and blush
Clionadh - highlighter
Bitter Lace Beauty - highlighter

Klarity Kosmetics - highlighter

Give Me Glow - eyeshadow
JD Glow - eyeshadow
Klarity Kosmetics - eyeshadow
Love Luxe Beauty - highlighter
Kaleidos Makeup - highlighter
Becca Cosmetics - highlighter (mini)
Terra Moons Cosmetics - highlighter

BH Cosmetics - Sweet Shoppe palette

Nabla - eyeshadow singles
Juvia's Place - 6-pan eyeshadow, eyeshadow single

Pat McGrath Labs - eyeshadow (full)

Nomad Cosmetics - eyeshadow palette

Emme Cosmetics - eyeshadow
Looxi Beauty - eyeshadow (larger pan)
Juvia's Place - eyeshadow (small pan)
Uoma - eyeshadow
KKW Beauty - eyeshadow
Dose of Colors - eyeshadow
Colourpop - single eyeshadow

Sydney Grace Cosmetics - single eyeshadow
Coloured Raine - eyeshadow

Copacetic Cosmetics - eyeshadow
Devinah Cosmetics - eyeshadow
Kristen Leigh Cosmetics - eyeshadow
Looxi Beauty - single eyeshadow (smaller)
Love Luxe Beauty - eyeshadow
Lunar Beauty - eyeshadow
MAC - single eyeshadow
Morphe - eyeshadow
Terra Moons - eyeshadow

Kaleidos Makeup - 6-pan eyeshadow palette

Marc Jacobs - eyeshadow palette
Colourpop - eyeshadow palette (small)
Sugarpill - Fun Size palette

Pat McGrath Labs - eyeshadow palette (mini)
Róen - eyeshadow quad

Nomad - Studio 54 highlighters

Juvia's Place - blush single

Nabla - highlighter, bronzer

Dior - Backstage Glow Face palette

Beauty Bay - eyeshadow palette

Menagerie Cosmetics - eyeshadow
Lethal Cosmetics - eyeshadow single
Sydney Grace Cosmetics - Tiny Marvels palette, Enduring Love palette

Nabla - Cutie palette
Sephora Pro - eyeshadow palette

Lime Crime - eyeshadow palette

BPerfect - Carnival palette
Glamlite - Ice Cream Dream palette

Violet Voss - eyeshadow (full)

Sigma - 14-pan palette
BH Cosmetics - 16-pan palette

Viseart - 9-pan palette, Addict palette
Huda Beauty - eyeshadow
Nabla - 12-pan palette
Love Luxe Beauty - 9-pan palette

Natasha Denona - eyeshadow (mini)
ABH - eyeshadow palette

Violet Voss - eyeshadow (mini)

Viseart - Petit Pro palette, Edit palette

Cover FX - blush and bronzer duo

Melt Cosmetics - eyeshadow palette (flatlay)

Charlotte Tilbury - 12-pan palette

Urban Decay - Naked palette

Melt Cosmetics - Impulsive palette

Artist Couture - Supreme Nudes palette

Tom Ford - eyeshadow quad

ABH x Norvina - eyeshadow (full)

Viseart - 6-pan palette, 12-pan palette, Grande Pro palette

Nars - eyeshadow palette (full)

Too Faced - eyeshadow palette (regular)

Charlotte Tillbury - eyeshadow quad

Clionadh Cosmetics - Stained Glass Collection

Kaleidos Makeup - 15-pan palette

ABH x Norvina - eyeshadow (mini)