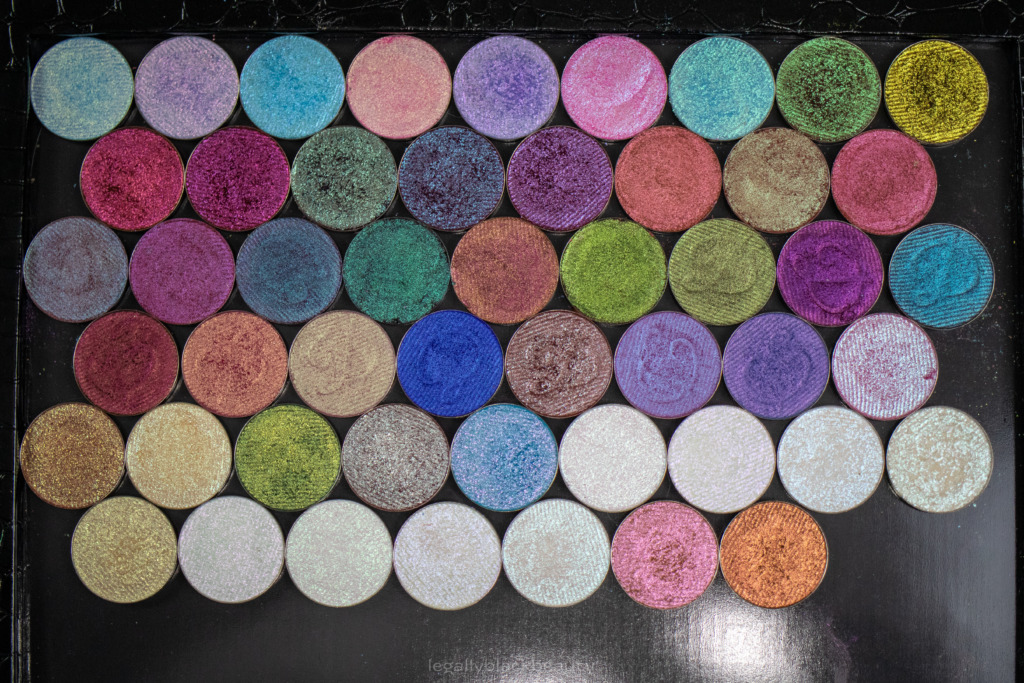 You can save using my code LEGALLYBLACKBEAUTY at Devinah Cosmetics (affiliate). Thank you for your support!
As promised, I am sharing more swatches of Devinah Cosmetics's shifty shadows. As expected, I did manage to leave out two shadows in these updated swatches. So I am included a few very old photos to show those two shadows. Sadly, I don't even think the shadows are available anymore (more on that below).
This post is kind of a catch-all for the rest of my Devinah shimmers, hence the "and more" part of the title. We've got mutichromes and duochromes, bundles and singles, and discontinued shadows galore.
Specifically, this post covers the Multichrome Madness bundle, as well as the Butterfly Kaleidoscope collection, which was released in three mini parts. The first two parts of the Butterfly Kaleidoscope collection were actually released under the name "Butterfly Multichrome Collection," but the name changed to "Butterfly Kaleidoscope" around the time the third part released. I think most of these Butterfly Kaleidoscope shadows have been discontinued (and probably replaced with the new Aurorae Flares), but I wanted to include them just in case.
I know I'm a little bit late for the Black Friday/Cyber Monday sale and much of Devinah's website is currently sold out. I hope this post comforts those of you who maybe purchased without having an idea of what shadows would look like…and helps those of you who are looking for swatches in the future. Hi, future readers!
The flatlay photos above show my palette full of Devinah's shifty shadows. In order, this palette includes the Xploders, Galaxy Dust, Multichrome Madness, and Butterfly Kaleidoscope collections, followed by a few random singles that made their way into the palette and the Candy Cakes and Sugar Drops collections. With this post, I've now swatched all of these shadows either on this website or on my Instagram page (or both!).
Yes, for the astute of you, I did slightly rearrange the shadows between photo sessions.
Alright, let's get into these multichromes!
About the Multichrome Madness & Butterfly Kaleidoscope Part 1 Bundles
General Information
Color Descriptions
General Information
The Multichrome Madness collection consists of five multichrome shadows. They are available as a bundle and the shadows available as singles.
Devinah marketed the shadows as more affordable, but softer and less intense alternatives to competitors' "viral" multichromes. These were some of my first multichromes and I definitely chose Devinah for those first multi-purchases due to their prices and the bundle options. Choice paralysis is real, so I appreciated that Devinah did some of the thinking for me.
From the Butterfly Kaleidoscope Part 1 bundle, it appears Morphinae is no longer available. These two shadows are no longer sold as a pair or with the other Butterfly Kaleidoscope shadows.
I have no idea what is what in the flatlay photos above. It is a wonder I even know that these two collections are in the palette. Speaking of the palette, that holographic magnetic palette sure is beautiful, huh?
Color Descriptions
Multichrome Madness Swatches
Multichrome Madness + Butterfly Kaleidoscope Part 1
Note: These are the very old photos I mentioned above. I forgot to include Morphinae and Menelaus in the updated swatches to follow.
About Butterfly Kaleidoscope Part 2
General Information
Color Descriptions
General Information
Devinah released Paralucia and Parthenos as the second part of the Butterfly Kaleidoscope collection. Well, actually, the collection had a different name back then (see above), but you get my point. Unfortunately, these shadows appear to be discontinued.
Color Descriptions
About Butterfly Kaleidoscope Part 3
General Information
Color Descriptions
General Information
The Butterfly Kaleidscope Part 3 is where the collection name change happened. Not that that matters, because most of the full Butterfly Kaleidoscope collection is a thing of the past. Here, Marpesia and Phoebis appear to be available, but it looks like Malachite and Papilo have been discontinued.
Check the Color Descriptions tab for the remainder of the shadows that are going to be swatched below. Sorry this section is such a mess, but I doubt many of you read these descriptions anyways. 😉
Some (or all) of these remaining shadows are duochromes, by the way.
Color Descriptions
Butterfly Kaleidoscope Parts 2 & 3 + More
Whew! Sorry this post was such a mess. I had a lot of photos that didn't seem to fit anywhere else an, honestly, I kind of forgot that Butterfly Kaleidoscopes were a thing when I was swatching that last group of shadows. But now the Devinah swatch party is officially over!
I have no real thoughts other than I'm sad so much of this is discontinued, but I'm hopeful the Aurorae Flares will fill the voids in all of our hearts.