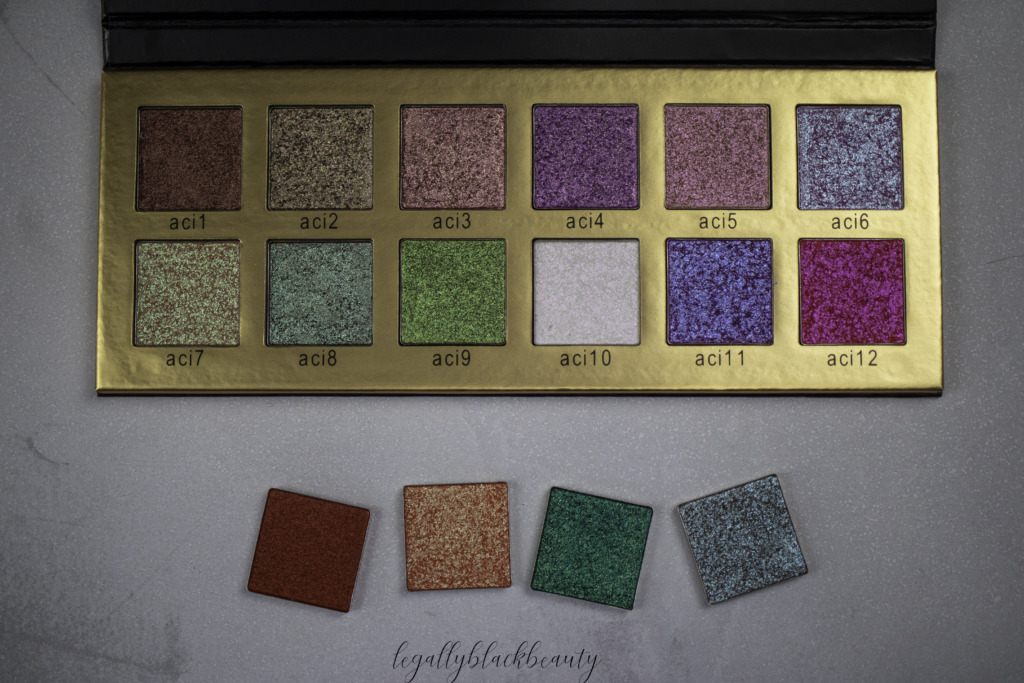 Adept Cosmetics decided to end 2020 with a bang. In November, they released a brand new formula of their eyeshadows — ACI. With this new formula, they released their first premade eyeshadow palette, the Plain Jane palette, and four singles.
But that's not all! They also dropped a brand new empty magnetic palette with a faux leather finish. The palette is available in two colors: black and deep green. It is double-sided, with each side holding 35 standard size (26 mm) round or square eyeshadows. It also contains a full-sized mirror and the two sides of the palette close with a magnet. The magnetic closure seems to be stronger than the magnetic closures in my older marble palettes, by the way.
Adept is the queen of combining innovative eyeshadow formulas with jaw-dropping colors. They also make, in my opinion, the best magnetic palettes. While the foldable double-sided style is no match for The Adept Palette (the namesake palette of the brand, which features a sturdy plastic case and a clear divider), again, in my opinion, Adept palettes are generally both reliable and stylish.
For those unfamiliar with Adept's naming conventions, all of their shadow names follow the same formula: AC (which stands for Adept Cosmetics) + the first letter of the formula type ("D" for "Diamond," "M" for "Matte," "S" for "Shimmer," and now "I" for "Iridescent") + a number.
According to Adept, the ACI formula is similar to one of their existing shadows in the Diamond formula, ACD5. Most of the ACI shadows have a soft, emollient texture and a sparkly finish. Most of them also have translucent bases, hence the "iridescent" label. This post covers ACI shadows numbered 1 through 16. Knowing Adept, they will probably release more shadows in this formula, with greater numbers in their names, later.
All of the shadows in this new formula are shown together above but are also shown under the appropriate headings below. The photos above also include shots of the Faux Leather palette in Black.
General Information
Color Descriptions
General Information
The Plain Jane palette contains twelve shadows in the new ACI formula. The palette contains sparkly duochromes and a few multichromes. I'm not sure which shadows officially classify as multichromes, but I think ACI5 and ACI10 might.
ACI10 is the closest to what other brands would call "iridescent" or an "iridescent multichrome." On light skin, the white base of ACI10 blends into the skin beautifully. On dark skin, the white base is kind of jarring (in my opinion) and can build up to look ashy.
Some of the shadows have more opaque bases than others. ACI12 is one of the more opaque shadows in the palette. I also think ACI1, ACI2, ACI3, and ACI4 are duochromes in the sense that they consist of two colors, but they do not have strong shifts. They all have prominent opaque, colorful bases with multi-colored shimmer particles.
Depotters and repanners, hold onto your hats. The pans in Plain Jane are magnetic and easily removable from the palette.
Color Descriptions
General Information
Color Descriptions
General Information
As stated above, the ACI shadows have soft, emollient textures. They feel cool to the touch (but the current winter weather might have an effect on that).
ACI13 and ACI14 are the most opaque shadows in the ACI formula. ACI13 is especially bright, while ACI14 is slightly less saturated and has more shimmer particles. Adept warns that ACI14 will stain the eye. I wore it as part of my Christmas look and did not have any difficulty removing it, but I rarely have problems with staining.
ACI15 and ACI16 are sheer, like many of the ACI shadows in the Plain Jane palette. ACI15 looks to have an orange and red base in the pan (which is why I swatched it after the red), with green shimmers throughout. On my arm and eyelids, it appears pink/pinky purple and mint green. On my palm, the base is pinks with hints of orange — but I still wouldn't call it an orange shadow. The base of ACI16 appears grey or brown in the pan, but the base is almost translucent when swatched on my skin.
No, I did not think to swatch them in numerical order for some reason. I deeply regret it.
Color Descriptions
I thought I knew what love for an eyeshadow was before. The Adept Diamond formula is one of my favorite, most surprising, most enjoyable formulas in my collection. I didn't think I could love a formula more than I loved the Diamond one. But the Iridescent formula showed me that I actually did not know what love was at all.
Not to be dramatic or anything…
Creating a palette full of shimmery, sparkly shadows is always a risky move. And it's even riskier when it's your first premade palette. But Adept took a risk and absolutely nailed it. Plain Jane is one of the most unique palettes in my collection and a perfect companion for any palette or group of singles.
The ACI singles are also amazing. ACI13 and ACI14 are perfect for any Christmas look, but they will also be great yearround. I was most surprised by ACI15. It is orange in the pan! But pink and green on my skin! Amazing.
Finally, I was also impressed by the Faux Leather palette. I don't know if its magnetic closure is actually stronger than the closures in the older marble palettes, but it feels like it is. Overall, the palette feels sturdier than a lot of Adept's older magnetic palettes. I love the sleek, classic look of the palette and the beautiful gold accents and trim. I highly recommend any Adept magnetic palettes but now would recommend The Adept Palette and the Faux Leather palettes as the best of the best.
To sum it all up, all of the items I received from Adept are going to be well-loved and heavily used by me in 2021. If you're able to pick Plain Jane up on preorder, I say go for it! It'll be worth the wait.