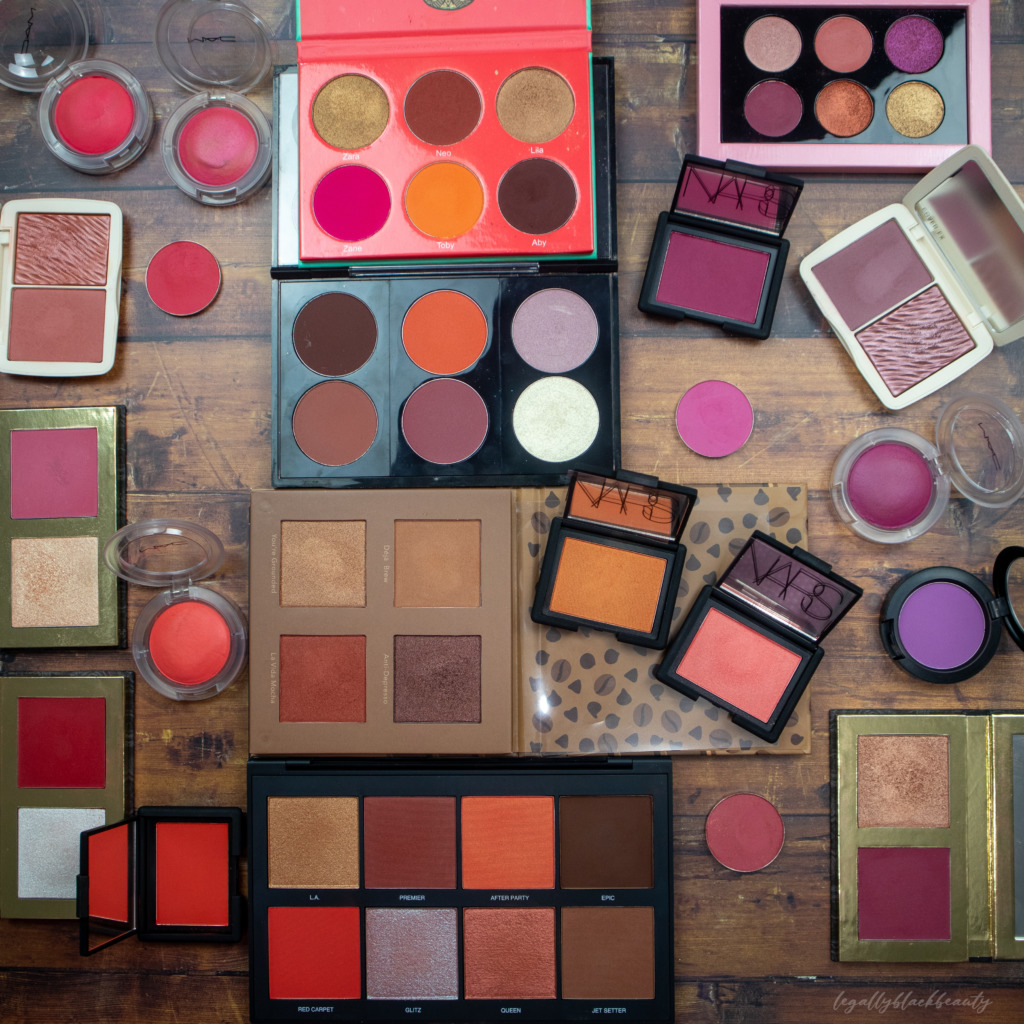 With as much as I swatch eyeshadows, it's easy to forget that there are other makeup categories out there that I love. Eyeshadows are the easiest products to swatch (except for multichromes) and I can't get enough of all the cool color combinations I can create, but eyeshadows are not my only makeup love. Today, I want to talk about one of my most under-swatched, but well-loved categories: blush.
Applying blush is actually one of my favorite parts of doing my makeup. But, because blushes often don't show up well on camera and built-up finger swatches can be rather unhelpful, I don't give them much attention when creating content. (The same goes for lipstick. I realized I haven't posted swatches of lip products since 2019, but lip products are my second favorite makeup category. Some products are just not as fun and easy to swatch!)
But that changes today! This post is a roundup of my favorite powder blushes for dark skin, with the blushes (somewhat) organized by color. I also have a list of my favorite liquid and cream blushes coming up soon. It's about time for blush to get its flowers from me!
There a ton of blushes in these photos and, although I tried to group similar colors together, I may have had some momentary lapses in color judgment. I also included finger swatches for all of the blushes and, because most people don't build their blushes up to that intensity, I also included blended swatches. If any of the blushes are calling your name as much as they've been calling mine, I do have all the brands linked below. I also (finally) set up affiliate links, so if you shop through those links (which are marked with an asterisk), thank you for your support!
Alright, let's get into these blushes! Enjoy!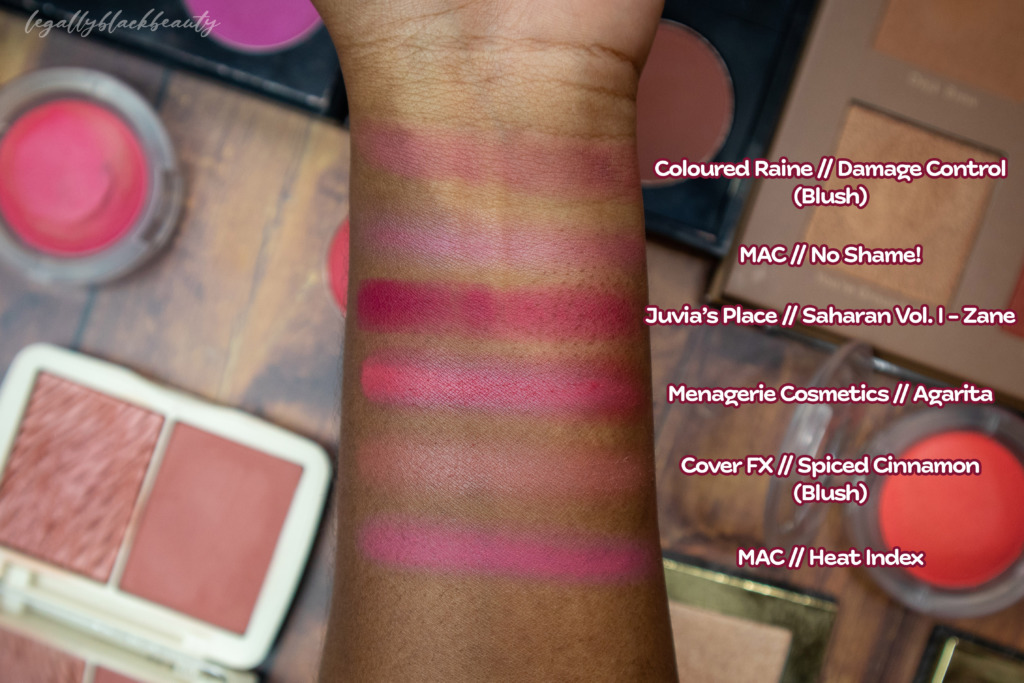 General Information
Color Descriptions
General Information
Damage Control is from Coloured Raine's 2019 collaboration with the TV show Power. The blush is sold alongside a pale gold highlighter. The Power collection is limited edition and the blush/highlighter duos have been discounted for a while, so I don't know how much longer they will be available. I love every duo in that collection, but the blush in Damage Control is one of my favorites because of how well it complements my dark skin.
No Shame! is from MAC's Glow Play line. I didn't know whether to call the Glow Play blushes powders or creams, because they feel like hybrids of both formulas. The blushes have spongy, cushiony textures and the formula provides sheer-to-medium coverage, depending on how much product ou use. I enjoy applying them with my fingers and with dense brushes.
Zane comes from The Saharan Blush Palette Vol. I from Juvia's Place. I loved that Juvia's Place released two blush palettes, each one intended to suit different skin tones. I also love that the "first" palette is the darker one — normally, dark-skin-friendly versions are pushed to the end of the line. I purchased both of the blush palettes, but Vol. I flatters dark skin the most. Zane is one of my favorites from Vol. I, but it is extremely pigmented! Even with all this melanin, I have to make sure to go into the pan with a light hand.
Menagerie Cosmetics sent me Agarita, from their new Arthurine blush palette, as PR. It is one of the deeper blushes in the palette. Fortunately for those who the lighter blushes won't flatter, it is also available as a single.
Spiced Cinnamon, which is a blush from the Cover FX Blush and Bronzer Duo of the same name, is a gorgeous terracotta blush. It appears more brown-leaning in these photos, but it can appear more coral or salmon-y in some situations. I really enjoy all of the duos I picked up from Cover FX and I know I'm not alone! You could hardly get your hands on one in 2019 when they first hit the market.
Heat Index from MAC is another Glow Play blush. It's a bright, buildable blush that I cannot stop wearing in the summer!
Color Descriptions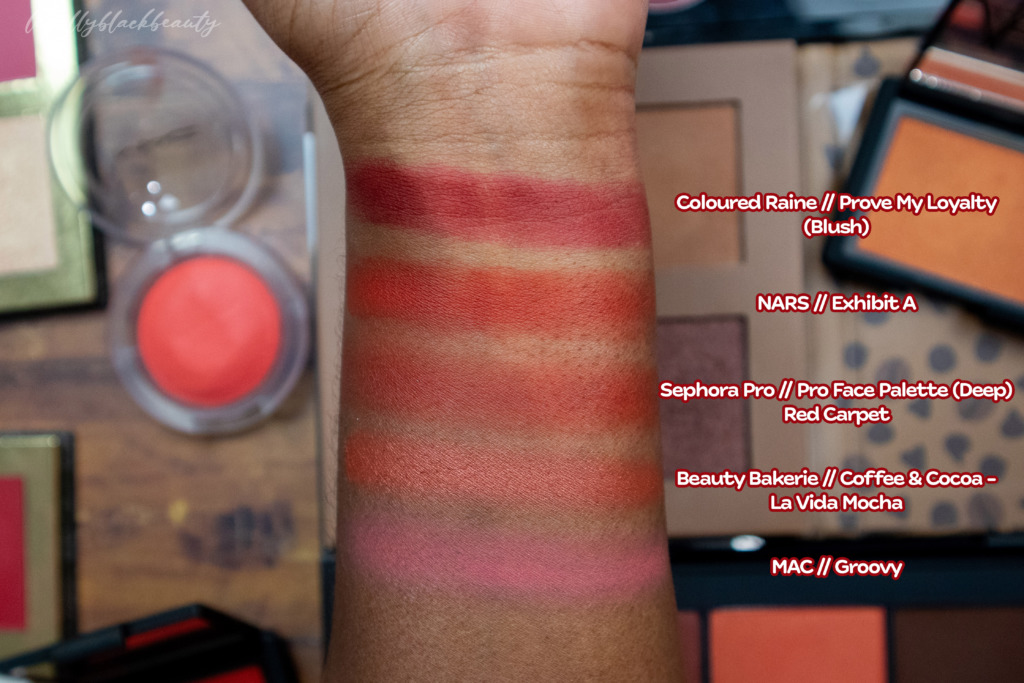 General Information
Color Descriptions
General Information
Prove My Loyalty is another blush from Coloured Raine's collaboration with Power. It is paired with an icy white highlighter. Coloured Raine describes the duo as perfect for "light and universal skin tones," whatever that means. I think the highlighter definitely suits those with light skin more than it suits those of us with deep skin, but the blush is the opposite, in my opinion. The Prove My Loyalty duo is the one duo ("one duo" hehe) that I knew I had to have when I first saw this collection teased in 2019. The pigmentation leaves me with zero regrets.
Perhaps my all-time favorite blush, Exhibit A is the perfect red blush for me. The NARS blush formula is one of the best. It is pigmented and easy to pick up with a brush, but it is not overly powdery like some of the Coloured Raine blushes. The shade is a beautiful red with slight orange undertones. This was my first NARS blush and it started my obsession with NARS's powder blushes (or at least the ones that work on dark skin, so excluding everyblush palette NARS has released).
I may be alone in my love for the Sephora Pro eyeshadow palettes, but I hope I am not alone in my love for the face palettes. Red Carpet from the Sephora PRO Face Palette in Deep is another beautiful, pigmented red blush that I love. It is one of the main reasons that I purchased the palette to begin with. It's similar to Exhibit A, but slightly more muted.
The Coffee & Cocoa palette from Beauty Bakerie remains the only product I've tried from the brand. I don't think any of the powders in the quad are labelled for specific uses, but I love using La Vida Mocha as a sparkly blush. I wish more brands came out with dark-skin-friendly blush quads instead of having just one "universal" palette in their lines. Beauty Bakerie also has a version of this quad that flatters light skin, by the way.
Another Glow Play blush already? You bet. Groovy is a coral blush, which I guess means it's not a red. But I told y'all these color groups weren't 100% accurate. You were warned! Anyways, Groovy is one the more subtle blushes in my favorites, especially when it is blended out. Its refreshing application definitely contributes to its spot in my favorites.
Color Descriptions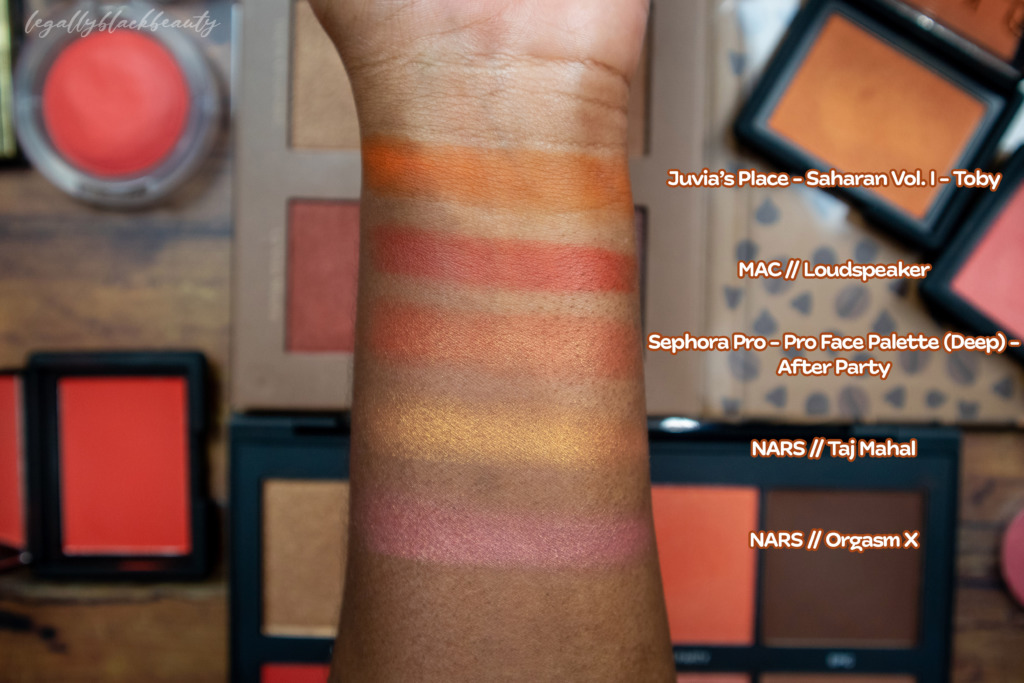 General Information
Color Descriptions
General Information
Toby is another blush from Juvia's Place The Saharan Blush Palette Vol. I. It is pretty much the perfect orange — not too red, not too yellow. Like the other blushes in the palette, Toby is extremely pigmented.
MAC makes some amazing blushes for dark skin and Loudspeaker is no exception. It's the deepest blush in this group, so I use a lighter hand when applying it. Blended out, it gives a nice, somewhat subtle pop of color to my cheeks, but it can also be built up for a bolder look.
After Party, which comes from the Sephora Pro PRO Face Palette in Deep is a nice shimmery blush. Shimmery blushes are not my favorite but, every once in a while, a good one like After Party comes around and reminds me that #notallshimmeryblushes are bad.
Taj Mahal is one of the lightest orange blushes I own. Like After Party, it is another shimmery blush. I like to pop it on my cheekbones during the summer for a glowy look or combine it with another blush to brighten up my face.
We finally have an Orgasm! I'll resist making any jokes about the name and just tell you all that I was so excited when NARS released a version of their famous Orgasm blush for dark skin. Orgasm X is described as a coral, but it leans more pink than orange on me. Orgasms are difficult enough for some people to find, so I'm glad NARS finally expanded their line and made sure the post-coitus coral flush is something all of us can achieve. How's that for avoiding innuendo?
Color Descriptions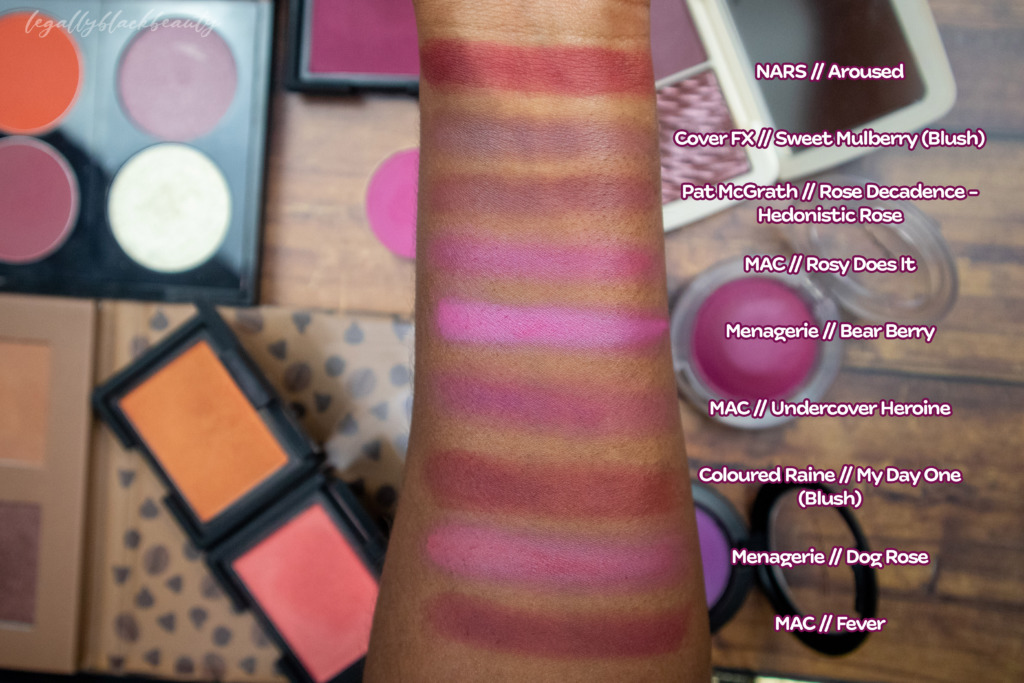 General Information
Color Descriptions
General Information
I picked up Aroused from NARS at the beginning of 2020, I believe as a birthday present to myself. I can't believe I had lived 26 years without that perfect raspberry blush. But, with age comes wisdom. Now that I know better, I will do better — and use that blush all the time!
The Sweet Mulberry duo excited me the most out of the monochromatic blush dups that Cover FX released in 2019. It is more of a muted purple than the other purples in this group but still great for a purple blush moment.
Okay, okay. I know Rose Decadence isn't technically a face palette. But don't we all wish it were? There are some beautiful blush and highlighter options in that palette for dark skin and Hedonistic Rose is one of them. Now if only I could get my favorite blush brushes into those pans…
I won't stop telling you all how much I love the Glow Play blushes, even though I'm sure you get it by now. But Rosy Does It DID. THAT. It is easily one of my top five favorite blushes. That formula! The color! Need I say more?
Undercover Heroine and Fever have been discontinued. A few years ago, MAC released an "MAC in Monochrome" collection, which consisted of some cult-favorite lipsticks and new matching powder blushes, lip glosses, and eyeshadows. Knowing how much I loved the Heroine lipstick from MAC, I had to immediately grab the matching blush. Undercover Heroine leans pink on me, especially if I use an ultra light layer. But, when built up, it is a gorgeous warm purple blush.
My Day One from Coloured Raine reminds me of Fever from MAC, but the tone is slightly different. It is another duo from the Power collaboration. It is paired with a chocolate brown highlighter, making the whole duo a great option for those with deep and deep dark skin tones.
Lastly, Dog Rose from Menagerie is a new blush available in their Arthurine palette or as a single. I think it flatters my dark skin, though it can be more of a subtle blush depending on how much you use and blend. Note: My version, which I received as PR, is more powdery than the ones available for purchase. If I notice any differences between it and the retail version when I get it, I will be sure to update you all.
Color Descriptions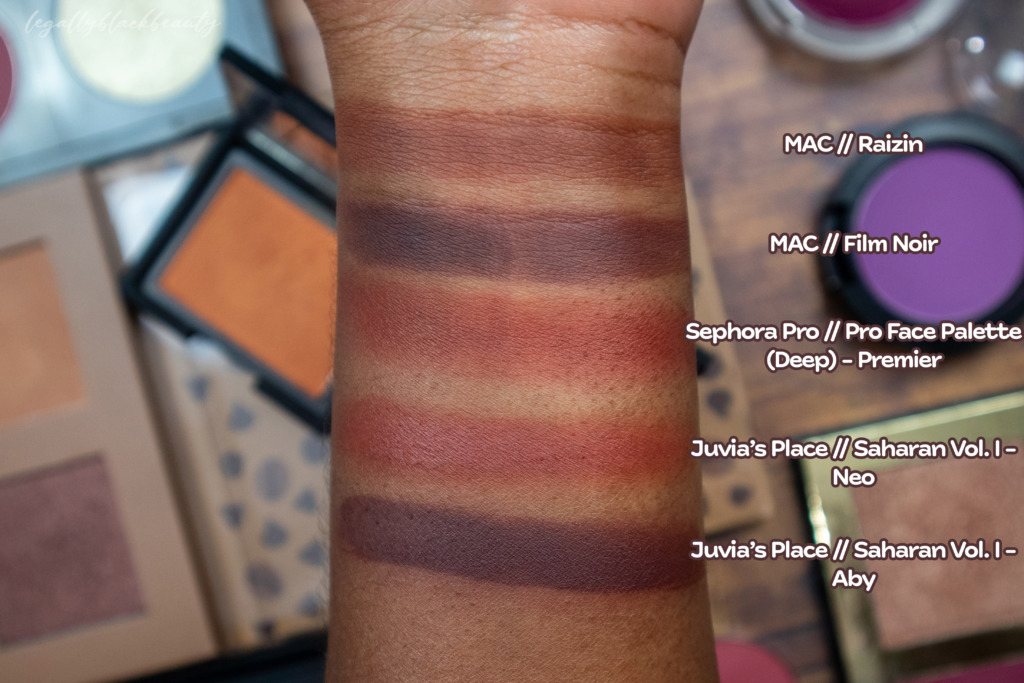 General Information
Color Descriptions
General Information
Finally — the last category of blushes! 2020 was a year where I discovered the beauty of brown blushes. I never understood why so many light skinned makeup wearers opted for shades of beige and peachy browns, but that's partially because there weren't many brown equivalents for dark skin — at least not that I knew of. But, as makeup becomes more inclusive, trends for one skin tone finally make their way to other skin tones.
Raizin and Film Noir are two cult classic MAC blushes for dark skin. There are not many lists of top blushes that they're not on, often near the top. So I had to my part as a dark skinned beauty enthusiast and pay my respects to some of the OGs.
Premier from the PRO Face Palette in Deep appears dark in the pan, but it is definitely a wearable blush for dark skin. It is pretty warm, so I wouldn't contour or even bronze with it. Although I do often use it as as bronzing blush, if that makes any sense. It's another reason I love the Sephora Pro face palettes.
Lastly, Neo and Aby are two other blushes from The Saharan Blush Palette Vol. I from Juvia's Place that I absolutely adore. Aby is the bolder of the two and could double as a bronzer or contour, depending on your preferences. Neo is more of a safer brown (or brownish red) blushes. But be careful — both are very pigmented!
Color Descriptions