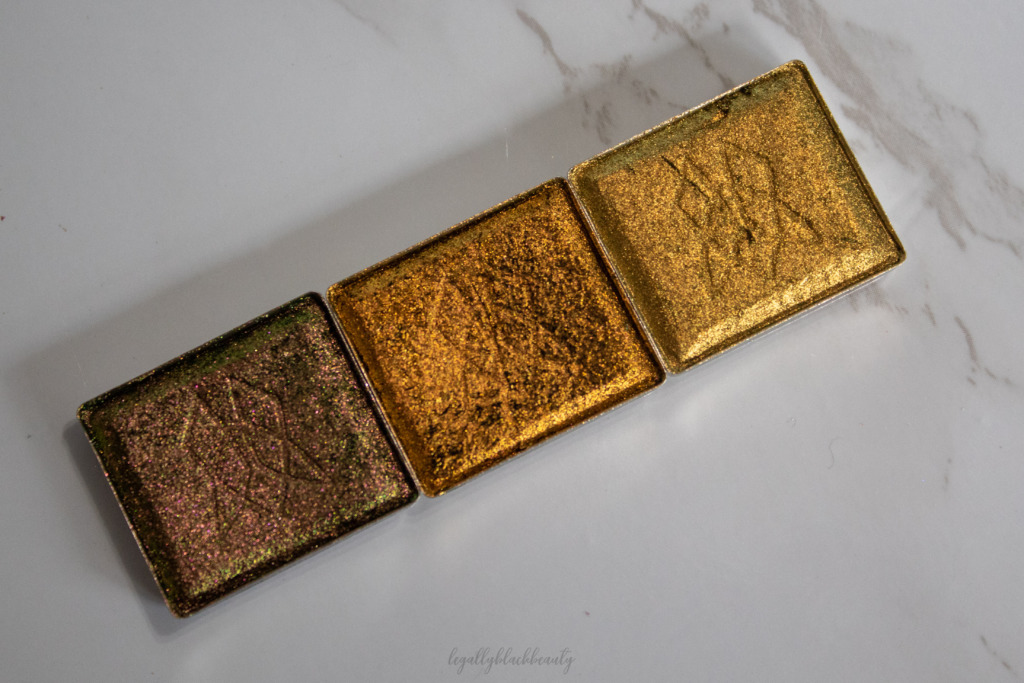 Finally! My favorite part of the Stained Glass collection from Clionadh Cosmetics. The moment we have all been waiting for. The Jewelled Multichromes!
I consider the Jewelled Multichromes the "crown jewels" (pun intended) of the Stained Glass collection (and probably the entire Clionadh collection). They are 20 rich, vibrant, ultra-metallic shades of color-shifting beauty. This formula singlehandedly makes the often-long waits from Clionadh worth it for me.
I won't belabor the point. You shall see soon enough.
About the Jewelled Multichromes
General Information
Color Descriptions
General Information
The shadows in the Jewelled Multichromes line all have black bases, rich tones, and metallic finishes. The shadows are shiny and reflective. They can be worn on the face, eyes, and lips. They are sold individually and as a bundle.
Weld, Burnish, and Vermeil were added to the line in January 2020 as a response to requests for more "neutral" multichromes. The base of Vermeil is not as dark as the base for the other Jewelled Multichromes. Most of the flatlay photos above show these three shades. The other Jewelled Multichromes are shown in a few photos, including the last photo (they are inside a multicolored box).
Spire is one of the deepest shadows in the Jewelled Multichrome formula. It is extremely rich and objectively (yes, objectively) beautiful.
There are a few bonus swatches below, showing Shard from the Hybrid line where Trefoil should have been.
Color Descriptions
Jewelled Multichromes Group 1 Swatches
Bonus: Group 1 Swatches with Shard
Jewelled Multichromes Group 2 Swatches
The Jewelled Multichromes are my favorite formula from Clionadh. They are quintessential multichromes, with their black bases and intense color shifts. You only need to lightly tap your brush or finger into the pans to get high payoff. Seriously, I barely have to touch my pans whenever I swatch these. The shadows are incredibly saturated that a little goes a long way. You cannot go wrong with one of these shadows.
Forge is a must-have shade, in my opinion. It is such a gorgeous, rich shadow. I would also add Kiln to any "Multichrome Starter Kit." Castle is another top shadow from this line, with its gorgeous glow. My other favorites are Smoulder, Rosette, and Crown Glass.