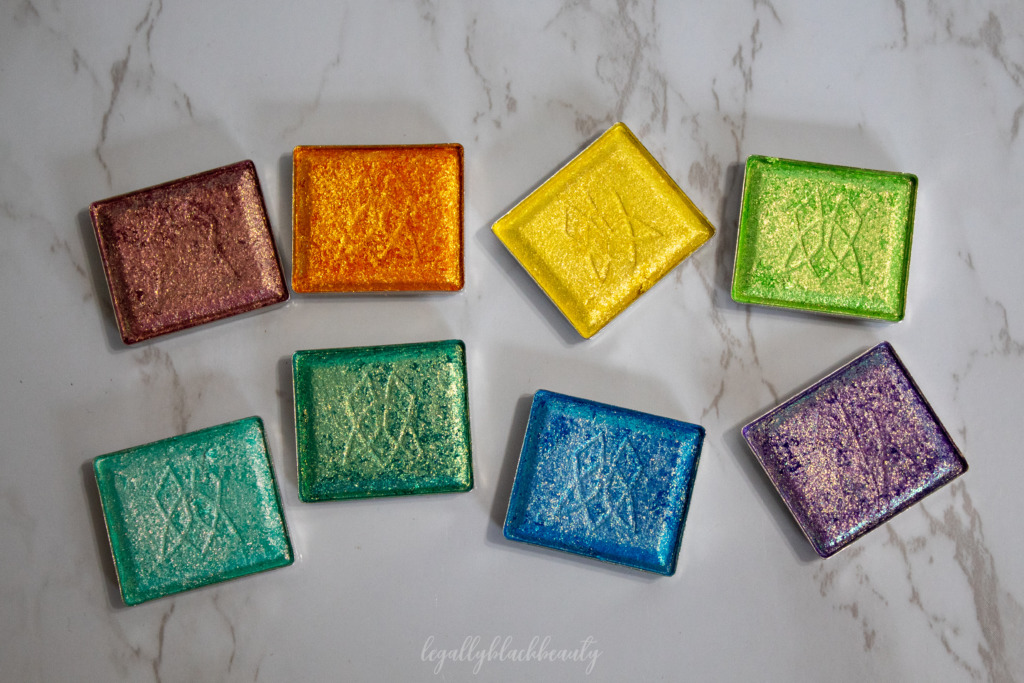 To close us out of the Stained Glass segment of this Clionadh swatch party, we have the Vibrant Multichromes. The Vibrant Multichromes are another new formula from early 2020.
These shadows are true to their name. They are the brightest, most vibrant shadows in the Stained Glass collection. When I received the order containing these shadows in the mail, these were the first to go on my lids. I couldn't believe how eye-catching these are in person!

As with the other posts in this swatch party, this one is full of swatches in multiple lighting conditions and a video to show the shifts in action.
About the Vibrant Multichromes
General Information
Color Descriptions
General Information
The Vibrant Multichromes are 8 rich, colorful shadows with intense color shifts. They can be worn on the face and eyes. They are sold individually and as a bundle.
The shadows are all shiny, smooth, and bright. Lineage seems the most pastel to me.
Color Descriptions
Vibrant Multichrome Swatches
The Vibrant Multichromes are stunning! They are incredibly shiny and, well, vibrant. My favorites from this line are Bloodline, Majesty, and Royalty. Lineage is also really beautiful and I would love to see some more pastel multichromes like it. I know I've talked a lot about what I hope to see from Clionadh and the collection is already massive, but I can't help but imagine all the colorful, multichrome possibilities!