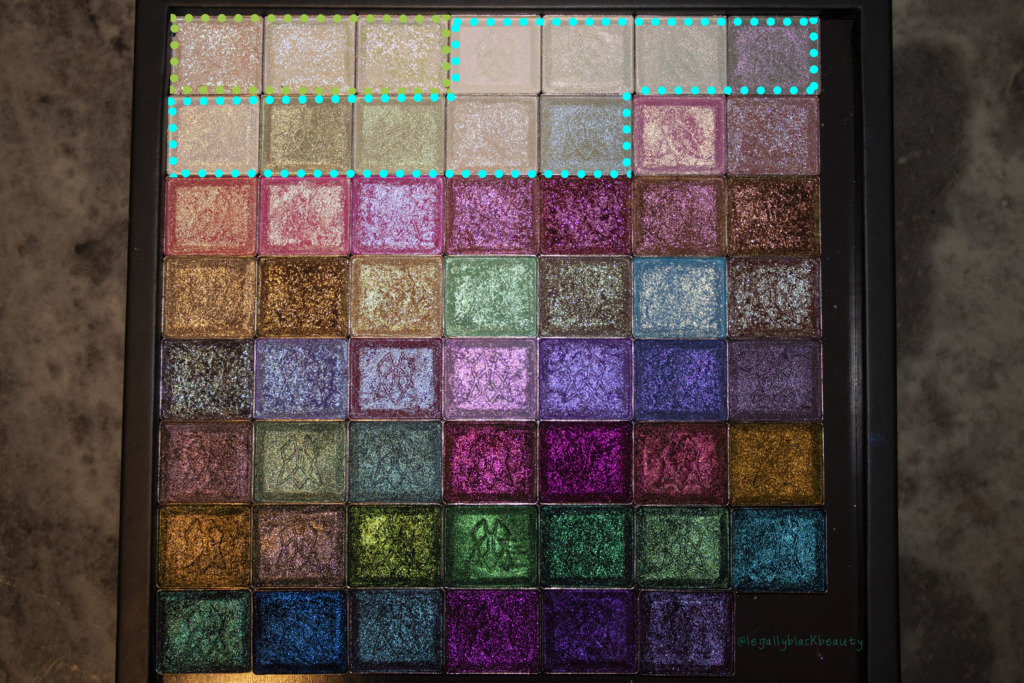 Next stop on the Clionadh swatch party train — the Series 1 Iridescent Multichromes!
When the Stained Glass collection first released in 2019, the Iridescent Multichromes were sold as part of a general Iridescent line, along with the three original Glitter-Type Iridescent Multichromes. Clionadh expanded their iridescent offerings in January 2020 with the Series 2 Iridescent Multichromes, which meant the OGs were now dubbed "Series 1." These Series 1 shadows are highlighted by a cyan box in the photo above.
Clionadh did not add anything to this series when they launched new Stained Glass shadows last January. Rather, they actually subtracted something — Ray. A reformulated version of Ray is now available as part of Clionadh's second series of iridescent multichromes.
Now that the history lesson is out of the way, let's get into the swatches! This collection predates my flatlay obsession so, unfortunately for me, I do not have many flatlay photos to show you all for this post. But, again, stay tuned for the final post in this party!
About the Series 1 Iridescent Multichromes
General Information
Color Descriptions
General Information
The Series 1 Iridescent Multichromes have "translucent" bases (again, depending on your skin tone), a pearlized satin finish, and color-shifting reflects. All of the shadows can be used on the face, eyes, and lips.
Again, the translucent base will appear white on dark skin, especially if the shadows are built up.
Ray (also known as Ray 1.0) was reformulated and re-released as part of the Series 2 Iridescent Multichromes. The 1.0 version is no longer available.
Glare has the most glitter-like texture of the bunch, similar to the shadows in the Glitter-type Iridescent formula. It can be smoothed out somewhat, but will still appear less opaque or thinner than the other iridescent multichromes.
With the exception of Ray, the shadows can all be purchased individually. They can also be purchased together as a bundle, again sans Ray.
Color Descriptions
Series 1 Iridescent Multichrome Swatches
The Iridescent Multichromes are some of my favorite shadows to play with from the Stained Glass Collection. I use them all the time as companions for eyeshadow palettes or other eyeshadow singles. I especially enjoy popping one in my inner corner in an otherwise-neutral look.
Ray is probably my most used shadow in this series. Actually, both versions are probably my most used of their respective series. I just love an iridescent, primarily red shifty shadow!
Of the two series of iridescent multichromes, Series 1 is my least favorite. I still enjoy it a lot, but I really enjoy the finishes of the Series 2 multichromes, which you'll see next — unless you don't read these posts in chronological order since they're all going up at the same time… Either way, you'll see them soon.
Note that I did not just mention the Deep Iridescents when comparing Clionadh's iridescent formulas. Clionadh classifies the Deep Iridescents as an independent category, as opposed to a Series 3 (a naming choice which I will give my brief thoughts about later). But, if I considered all three iridescent formulas, Series 1 would still rank last and the Deep Iridescents would be taking home the gold.