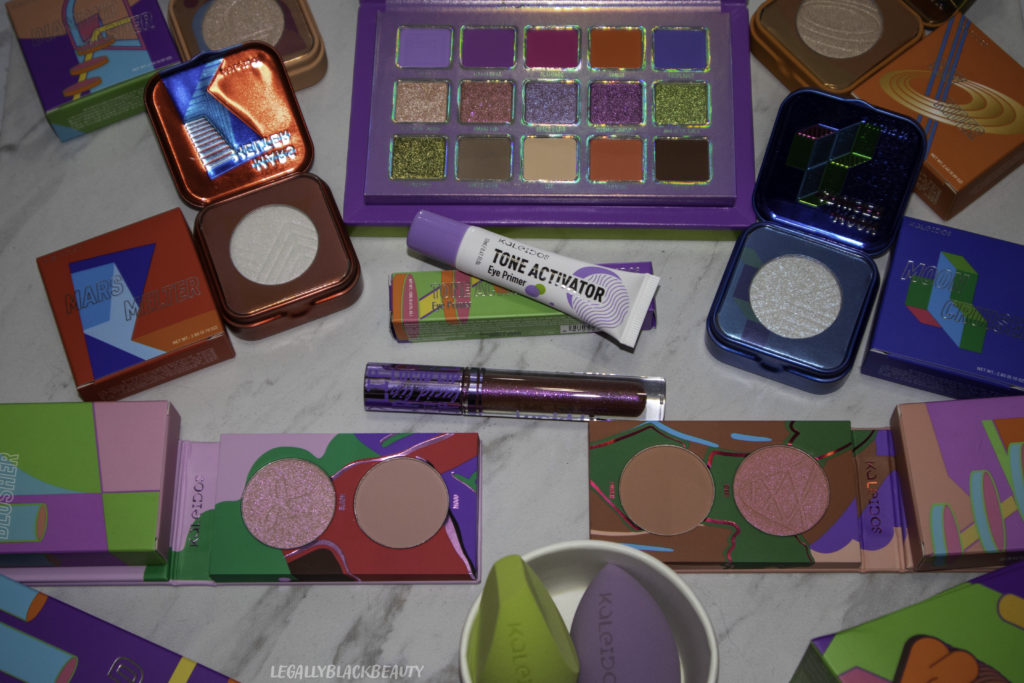 About the Make Your Escape Collection
I was kindly gifted the Make Your Escape Collection by Kaleidos after DM'ing them about the problematic representation of dark skinned (presumably) women on their blush duos — more on this later.
The collection consists of one eyeshadow palette, two makeup sponges, a lip gloss, two blush duos, four highlighters, and an eyeshadow primer. It's clearly a huge collection, so let's jump right in!
But first…I have not included swatches of the Lucid Lip Gloss in Hypnotize — a cool and creamy magenta frosted with fuschia and violet sparkles. I also did not swatch the Tone Activator Eye Primer, which Kaleidos claims is smudge-proof, crease-proof, and water resistant. It has a beige tint to it.
Alright, now let's really jump in!
General Information & Thoughts
Color Descriptions
General Information & Thoughts
The Escape Pod is a 15-pan palette, featuring a row of colorful mattes, a row of multichrome and shimmer shades, and a row of earthy tones and "contour" shades.
The mattes are smooth and vibrant. Swatching them was so pleasing that I had to do it twice (which you'll see below)! The shimmers are sparkly and bright. They are also rather thin, which means they can function as toppers, but they can also be built up for more intensity.I would have liked at least one thicker shimmer that is easier to control though. I think Cosmic Cabaret has the most opaque base, so something just a tad bit more opaque than that would have been perfect.
The only shade I could do without is LoFi. This should surprise no one. I dislike light cream and beige shadows in palettes as they don't flatter my skin tone. Aside from that, I really enjoy this palette and the different colors and textures it offers.
Color Descriptions
General Information & Thoughts
Color Descriptions
General Information & Thoughts
Kaleidos refreshed its Space Age Highlighter collection through the Make Your Escape collection. Ray Rider is a previous release that was reformulated to make the base more translucent. From photos of the original Ray Rider, I believe the original would have flattered dark skin tones more. The new Ray Rider works on my skin tone, but I prefer deeper bases for peach highlighters.
Mars Melter and Moon Cruiser are tied for my favorites. I love their shifts!
The first set of swatches below includes finger swatches. The second set of swatches includes brush swatches to show how the highlighters look blended and sheered, like they would be applied on one's face.
Color Descriptions
About the Lo-Fi Duo Blushers
General Information & Thoughts
Color Descriptions
General Information & Thoughts
Where do I begin?
I'll just copy most of what I prepared for Instagram. It might be a little lengthier, but hang in there.
I've said this a few times on my stories. So much that I've been dreading typing it all out again (and by now, I've also posted most of this on Instagram). I could just refer you all to my page, but what I have to say is important and I want to make sure you all hear (read) it.
I do not like the artwork on these duos. The artwork consists of images of dark skinned figures, presumably black women. The darker skinned woman has one hand on the ground and the other on her head, reminiscent of an ape (to me). The lighter skinned woman is posing with her backside facing the viewer. Her head is tiny and her bottom is noticeably large. Regardless of the artist's intent, both images perpetuate racist, harmful depictions of black, and specifically dark-skinned black, people.
And then you open the duos. Now, with dark skinned women on the cover, you would expect dark skin friendly blushes, right? Well, as you can see from my swatches, these are far from dark skin friendly. It is upsetting. The darker skinned woman covers the most dark skin un-friendly blush. The black women on the cover do not represent who may use those products. Instead, they are art purely for white gaze. (And I do not mean to say that only non-black people can wear these duos. I am focusing on the primary audience.)
Black women have been abused by and made spectacles of for white audiences for centuries. I would not be surprised if the artist consulted (perhaps unknowingly) colorist depictions of black women stored in their subconscious. By placing these images on duos meant for those who fall on the opposite side of the skin tone spectrum, Kaleidos and the artist participated in a painful history of misrepresentation and dehumanization.

Kaleidos is aware of this important context now. In their eagerness to offer products to a new market (Africa and the Middle East), they did not take the time to consider the implications of their art and of a line that excludes some of their customers. I truly believe they are aiming to do better. And they are working on another duo for those they left out. It speaks volumes that they sent me this collection knowing that I disapproved of the art and did not think it was inclusive. And, thankfully, they have since removed these products from their website. I look forward to seeing the new, more inclusive and more culturally aware blush line.
The swatches of the duos are below. I also included blended swatches so you can see the level of ash more clearly.
Color Descriptions
Lo-Fi Duo Blushers Swatches
I appreciate that Kaleidos sent me this collection after I was so vocal about my displeasure with the blush duos. I am also happy that Kaleidos has removed those blushes from their line. Hopefully similar colors come back in more appropriate packaging. But I believe Kaleidos actions speak volumes about the brand and I feel good about supporting them in the future.
Blushes aside, these products are beautiful on dark skin. This is definitely a collection for color lovers, but there are also plenty of more neutral and safe options within the collection.
As stated above, I didn't include swatches of the lip gloss or eye primer. The lip gloss is a pretty fuschia and I may swatch it later. The eye primer is little liquid and a lot comes out at once (nobody make any jokes). It's not going to dethrone my favorite primers because of its consistency, as well as its color.
Whew. That was a lot.