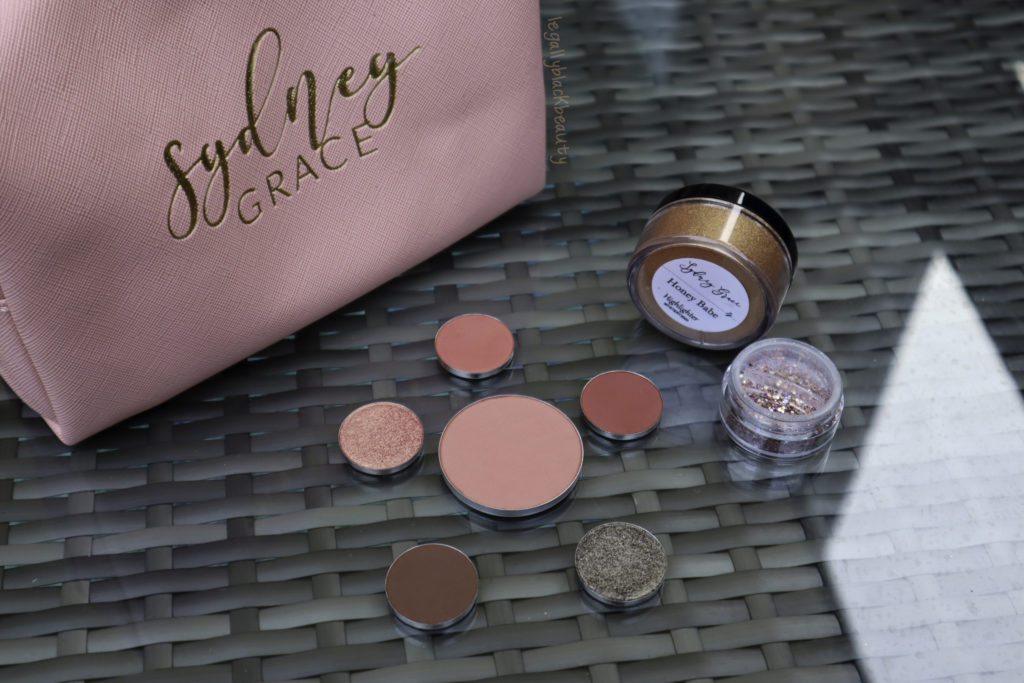 I received my first PR from Sydney Grace during their 2020 Christmas in July sale. For those who don't know, Christmas in July is Sydney Grace's annual week of incredible deals. My PR box included the Warm (Deep) Mystery bag, along with their new eyeshadow palettes.
Also, my glitter had a little accident while I was taking these photos. Let's spare my glitter's feelings and not talk about it.
About the Warm (Deep) Mystery Bag
General Information
Color Descriptions
General Information
The Warm (Deep) Mystery Bag was offered during Sydney Grace's 2020 Christmas in July sale. The bag included five eyeshadows and one blush (Georgia Peach) intended to suit those with dark skin tones. It also came with a loose highlighter and a loose glitter.
Color Descriptions
Face Products and Glitter Swatches
(wrist to elbow)
Georgia Peach

(blush):

Light peach matte

Elegant Lady

(glitter) :

Multi-colored glitters

Honey Babe

(loose highlighter):

Medium gold shimmer
The last few photos show Georgia Peach and Honey Babe alone, swatched and blended with a brush. For the first set of brush swatch photos, I swatched over a large area of my arm with light layers of both products. For the second set, I used a dense blush brush and layered the blush over my skin. I applied the highlighter with a fan brush.
I like everything I got in this bag, but I would have preferred a deeper peach blush that will be flattering on more dark skin tones. A richer and brighter peach would have been perfect for a deep option. For example, think Nars Orgasm X without the sheen — perfect!
I can still warm up my cheeks and get some effect from the blush, but it is definitely a subtle blush for me. In the future, I would like to see increased inclusivity from Sydney Grace. I appreciate that they offer deep versions of their mystery bags every year — although I do wish, on the website, the non-deep bags were labeled "Light" instead of just "Warm/Cool/Colorful," thereby normalizing light skin tones — but there is always room for improvement. I am optimistic that Sydney Grace will continue to improve. From their past releases, it is clear that they are always aiming to improve and trying to get it right when it comes to inclusivity.