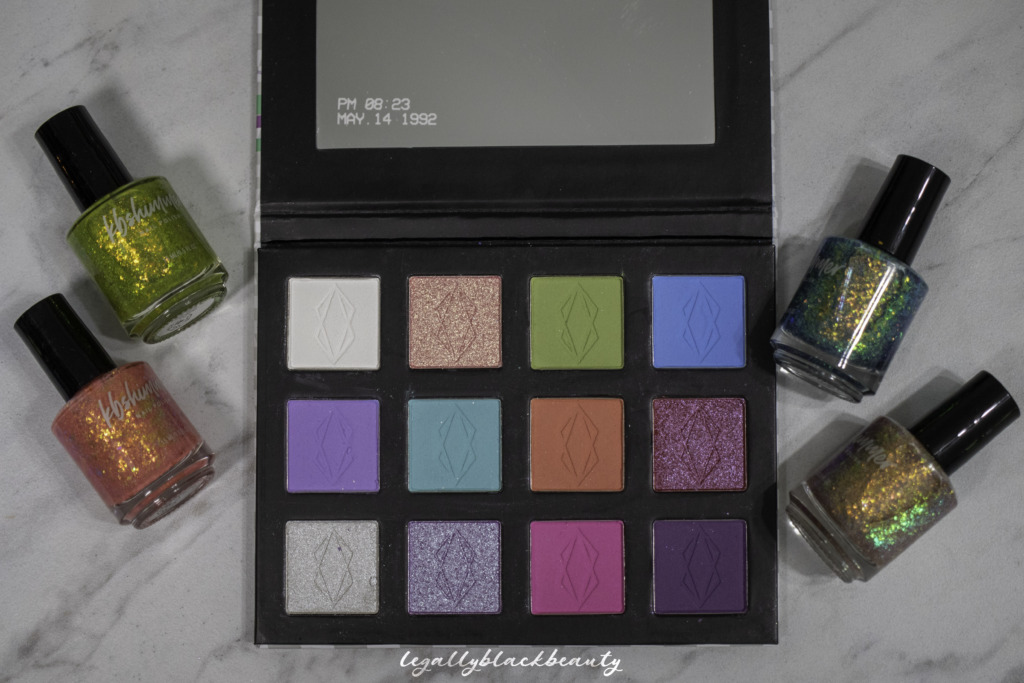 To continue with my Lethal series, today I'm showing you all swatches of the After Dark palette. Lethal released After Dark in the summer of 2020 — perfect timing for a bright, neon color story. With the palettes, Lethal also released all of the shadows inside it as singles.
Unlike their eyeshadows singles, which you can design and buy in bundles, Lethal's premade palettes arrive with the shadows placed inside the magnetic palettes. However, this palette does come with a special way to customize it. It arrives with a fun sticker sheet with images and colors that match After Dark's '90s and Vaporware inspiration.
General Information
Color Descriptions
General Information
After Dark is a colorful 12-pan palettes inspired by the '90s and Vaporware. It contains pastel, neon, metallic, and duochrome shadows for a total of 8 mattes and 4 metallics. The palette also comes with a sticker sheet which can be used to decorate the external packaging.
The pans in the palette are magnetic and removable, with small holes behind each pan to aid in the removal process. Although sold as a palette for a discount, all of the shadows in the palette are available as singles.
Color Descriptions
If you've been around for a few of my swatches and impressions of palettes, you know that I love white mattes like Frequency in colorful palettes. I enjoy mixing mattes in a palette to get lighter mattes, especially when the palette does not have many light shades for use in the crease. Matte whites are especially appreciated when the palette has mostly deep or mid-toned shadows. With After Dark, most of the shadows are in the light to medium range on me, but I was still excited to have a white matte in Lethal's formula.
Speaking of formulas, the formulas are Lethal's usual. The mattes are soft and powdery, yet pigmented. Even the pastels, like Sequence and Proxy (my favorite mattes here), show up well on my dark skin. The shimmers are reflective and apply well. Arcade and Synth are two beautiful duochromes and definitely my favorite of the four shimmers.
If you've got your eye on this palette, keep in mind that is more matte-heavy than shimmer-heavy. It has twice as many mattes and shimmers, so if you have more fun creating looks with metallic shadows and need your palettes to stand on their own when you use them, you might find yourself limited with this one. On the other hand, if you're the type to always sport a colorful cut crease or enjoy using multiple palettes at the same time, this may be the palette for you (and if you can't do a cut crease to save your life but love color, I think you'll still like this palette).