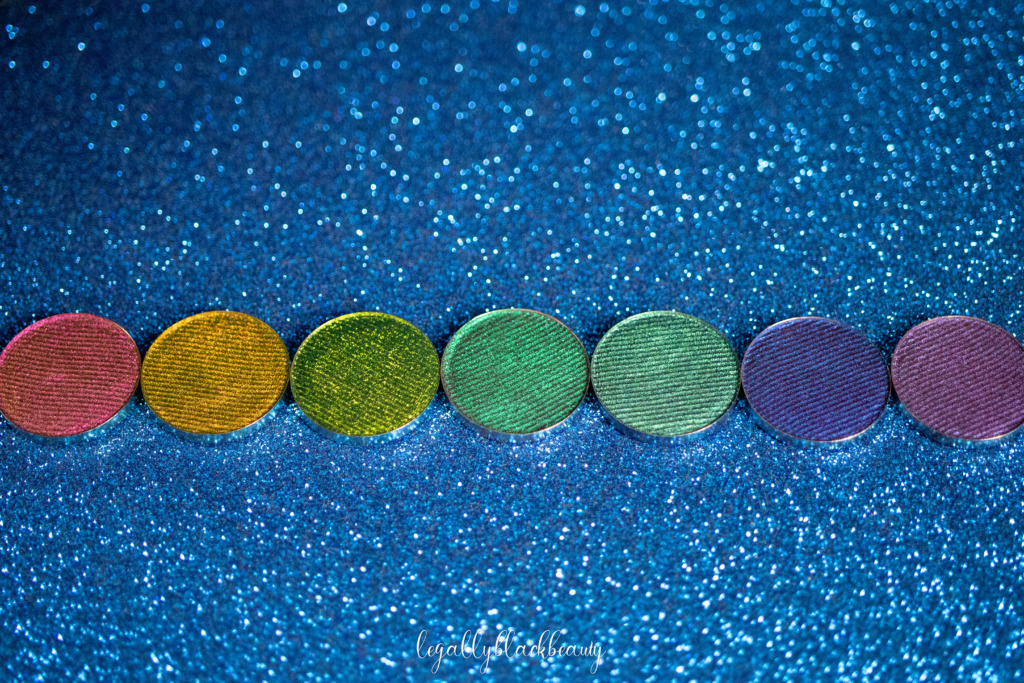 You can save using my code LEGALLYBLACKBEAUTY at Devinah Cosmetics (affiliate). Thank you for your support!
Devinah may have discontinued their Butterfly Kaleidoscope collection, but they made sure to replace those with even shiftier and shinier multichromes. I'll take it!
The Aurorae Flares, which were added to Devinah's catalog in the fall of 2020, are bright and beautiful multichromes. They aren't as flaky or textured as some of Devinah's older multichromes. They are smooth, with no distinguishable microshimmer particles.
The shadows restocked today, shortly before this post (thank you, technical difficulties). And, for the first time, you can use my affiliate code to save on them. Thanks in advance if you use my code!
Knowing Devinah and how popular they've become, these shadows will probably sell out quickly. If you can't get them this time, worry not. Devinah will restock them again. They are great about giving customers many opportunities to purchase their beautiful, highly demanded shadows.
General Information
Color Descriptions
General Information
The Aurorae Flare multichromes are metallic, shifty shadows inspired by the Northern, Polar, and Souther Light Shows. The formulas are soft, silky, and opaque. Some shifts are most apparent at extreme angles, but all of the shadows show at least three colors.
Devinah recommends applying the shadows over a glitter primer to intensify the color. Additionally, they recommend spraying your brush with a setting spray to minimize fallout and foil the shadow. Personally, I do not have fallout when using these shades. They are thin, not chunky, and pigmented.
All but Chromosphere, which released after the original shadows in this formula, are available in a bundle. All are available for purchase individually as singles.
Color Descriptions
I am more than pleased with the Aurorae Flare multichromes. The formula is amazing and comparable to multichromes from other indie brands. Although more expensive than Devinah's older shifty shadows, the higher price is reflected in the opaque, pigmented formula.
The collection seems very blue-heavy to me, so I don't think the bundle option is for someone who doesn't like a lot of blue. Also, the shadows are a bit shiftier than my photos show. I wasn't able to capture the shadows at extreme angles, but I'll try to show those extra shifts soon.