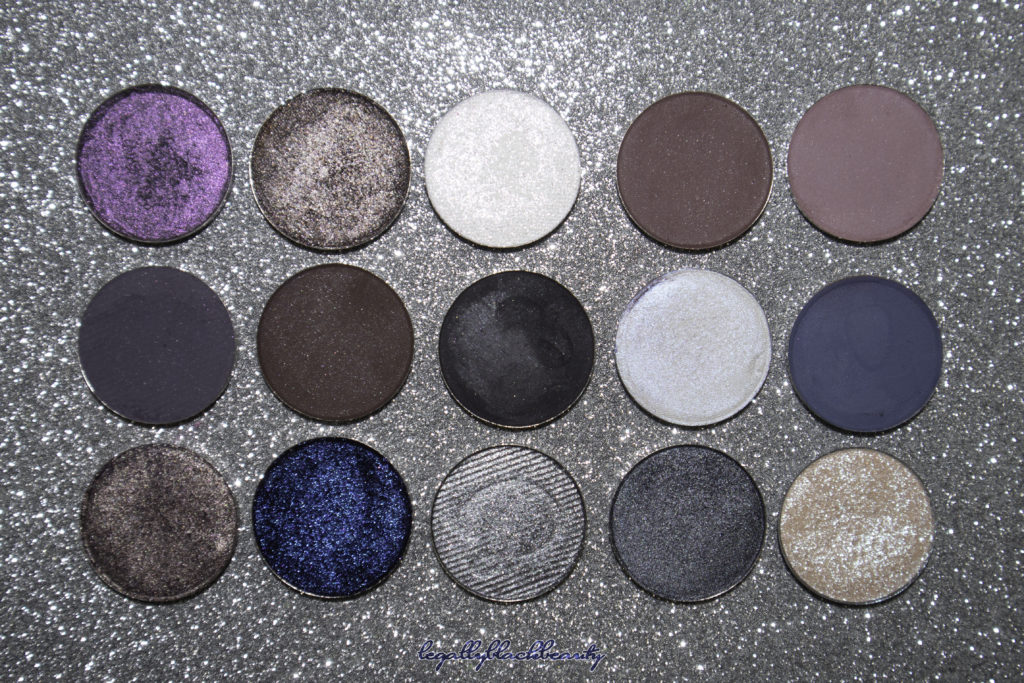 You can save using my code LEGALLYBLACKBEAUTY at Devinah Cosmetics (affiliate), Love Luxe Beauty (affiliate), Shine by SD (affiliate), and Terra Moons Cosmetics (non-affiliate). Thank you for your support!
In September, I collaborated with some of my favorite creators on Instagram to create #MyGlamPalette: Lily (@alilpanning), Ligia (@apointlessgram), Lola (@doseoflolade), Fari (@glowmommy211), and Alex (@sincerelyalex_makeup).
Inspired by Natasha Denona's Glam palette, and our frustrations with the naming scheme for said palette, we decided to create our own 15-pan palettes with cool and/or neutral undertones. Using Glam as a guide, we picked out our ideal transition, crease, lid, smoke, lash line, inner corner, and brow bone shades. And we spiced things up a bit by choosing whatever overtones called out to us.
Like a lot of makeup enthusiasts, we were less than thrilled with the idea of Natasha Denona Beauty telling us how to do our makeup. At Natasha Denona's price point, it is a little ridiculous to believe that someone spending that much money on an eyeshadow palette needs or wants that level of elementary help doing their makeup. Those types of instructions are more often seen with more affordable and beginner-friendly eyeshadow products. While I'm sure some people appreciate the gesture, I think most of the people who tend to buy Natasha Denona would have preferred the brand take a more creative direction with the palette.
The second problem with Glam is that the placement of certain eyeshadow colors on one's eye depends on both skin tone and personal preference.
Placement depends on skin tone because those of us who are rich in melanin cannot use very light beiges to seamlessly "transition" from our natural skin to the rest of our eyeshadow (note: this is one, but I believe the most common, meaning of "transition" shadow). Similarly, we also need relatively deep shadows to create definition above our lids, which is a common purpose of a "crease" shade. The naming scheme for Glam centers whiteness or lightness. Naming a shade "Transition" sends a clear message about what skin tones the brand envisioned using their palettes. By calling a very light color "Transition," Natasha Denona made a choice to make those with light skin the default users of the Glam palette. For the rest of us, the brand suggested we pop out and rearrange the eyeshadows to make the colors somewhat less nonsensical for us — extra effort Natasha Denona did not expect lighter consumers to make.
Placement also depends on personal preference because some people would use the same shadow for multiple functions. For example, in my palette below, I would use my "inner corner" shadows for the stated purpose, on my lid, or on my brow bone. I can also use the same shadow on my lash line or to smoke out my look.
So the purpose of this collaboration is two-fold. First, it is to show what color stories we would have liked to see from a palette with a cool- to neutral-undertone theme. Second, it is to emphasize that there are new rules to makeup. Labeling eyeshadows in this way does not inspire creativity. On top of that, a user's skin tone and personal preferences impact what function a given shadow will serve. Providing instructions for a palette without regard to individual makeup preferences is both ridiculous and exclusionary.

Read below to learn more about My Glam Palette.
With my palette, I was craving some pops of color to go along with the greys and browns. I added Complex and some multi-dimensional blues. I did not include a Blend shadow because having a Blend and Transition shadow would be redundant for me — I would just use the Transition to blend. I also don't normally pop anything on my brow bone but, when I do, it's either my inner corner highlight or a super sparkly shade like Cookie Dough.
With my look, I used each shadow for its designated purpose. I like the look but I like freedom even more. It definitely felt limiting to use each shadow for one purpose only, although the whole palette creation process did get my creative juices flowing. See my look below!
Anyone is welcome to participate in this collaboration. If you do, please tag me on Instagram and use the hashtag #MyGlamPalette so I can see what you come up with!
Devinah Cosmetics (D): Chrome, Zane
Looxi Beauty (L): Cookie Dough, Taupe 101, Vicious
Love Luxe Beauty (LLB): December Night**
Shine by SD (S): Complex
Sydney Grace (SG): Beyond, Blue Mist, Eastern Rise, Predictable, Storm Cloud, Troops, Tuxedo
Terra Moons Cosmetics (TM): Ice Giant**
**I received these shadows as PR.
Devinah Cosmetics: Zane (outer corner)
Looxi Beauty: Cookie Dough (brow bone)

Shine by SD: Complex (center lid)

Sydney Grace: Blue Mist (inner corner), Predictable (above crease), Storm Cloud, (outer lid), Eastern Rise (crease), and Tuxedo (bottom lash line)