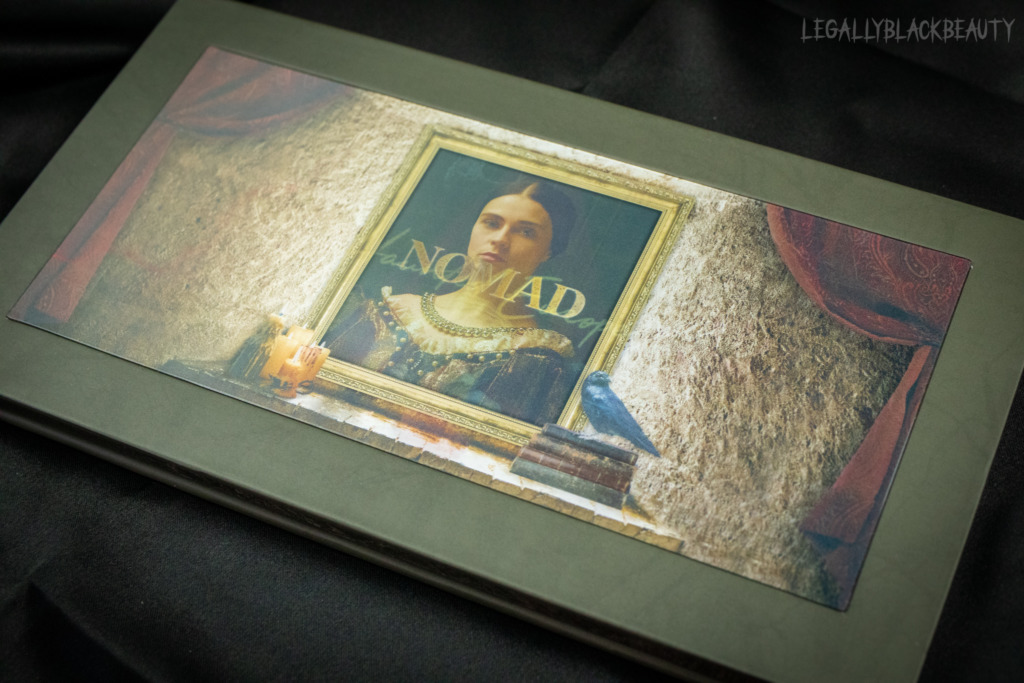 Happy Halloween! Today I am sharing photos and swatches of a palette certainly fit for the occasion – Nomad Cosmetics' Haunted Europe palette. The palette takes inspiration from dark fairy tales involving vampires, haunted spirits, and spooky forests and castles. It is the second palette released by Nomad since their pivot away from specific destinations towards more general themes that still tie in interesting sights to see.
One of the most interesting features of Haunted Europe is the lenticular image on its cover that changes based on the viewing angle. From one angle, you see a portrait of a woman fit to hang in a castle and from another you see an image of a woman wearing a cape while holding a skull. Spooky!

Nomad often donates proceeds from their palette sales to charities relevant to the palette's subject matter. Five percent of the retail sales of this palette are being donated to Count Dracula's favorite charity – Bat Conservation International, which is focused on preventing bat extinctions.
General Information
Color Descriptions
General Information
Haunted Europe is an 18-pan palette with an equal split of nine mattes and nine shimmers. In Nomad's own artistic description, the palette consists of a "devilishly delightful array of dark and haunted shades from blood stained crimsons and eerie forest greens to gravestone grays and autumn golds."
The palette is full of dark and eerie shadows, but also lends itself to plenty of colorful looks. All of the shadows performed well for me and were workable for dark skin.
The back of the palette lists alternative names for each shadow, but the names have been translated inside of the palette.
Color Descriptions
Haunted Europe is one of my favorite releases from Nomad. I am always blown away by their attention to detail, and the well-performing, bendable shadows do not hurt. As someone who has grown a bit tired of gold eyeshadows, I would have liked to have one gold eyeshadow instead of two. But the beautiful greens of Highgate Cemetery and Merry Cemetery definitely impressed me.
Also, it is wonderful when I can use and appreciate every shadow in a palette. There are cool-toned shadows in this palette, like Ghost River and Dragsholm Castle, that might give some pause. But I feel like I can use each shadow to make a look that I like.