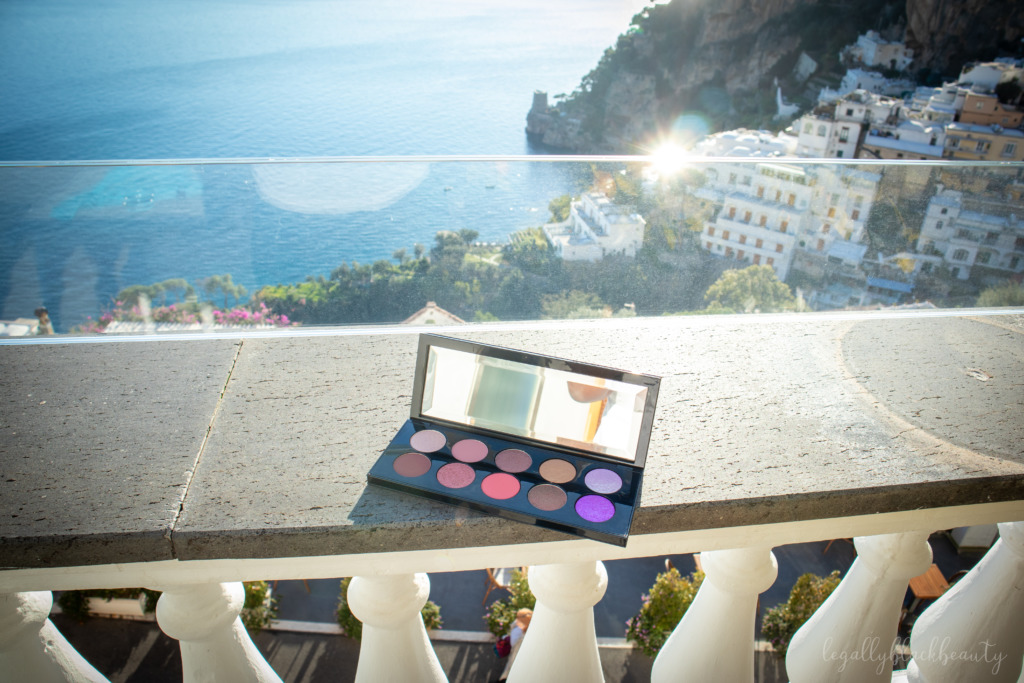 Earlier this year, Pat McGrath labs teased fans with colorful, rainbow-filled images which inspired the latest addition to the Mothership line, Mothership IX: Huetopian Dream. While many were disappointed by the same gold and pink tones we've been seeing from the brand for quite some time and felt catfished by the apparent lack of a rainbow color scheme, this palette is so satisfyingly beautiful in person.
I can't quite tell you what the theme of this palette is — at least not in a way that makes it unique when compared to Pat McGrath's other palettes. Like most of the Motherships before it, this one has a description meant to conjure up images of space – from sparkly galaxies to otherworldly sex appeal. But who needs a more specific theme with a palette as pretty as this?
About Mothership IX Huetopian Dream
General Information
Color Descriptions
General Information
Mothership IX: Huetopian Dream is a ten-pan palette with a variety of Pat McGrath's well-loved finishes: matte, shimmer, metallic, duochrome, and (the newest and rarest finish in the line) trichrome. According to the brand, each of the shadows are "formulate with a next-generation technology to ensure seamless blendability and exceptional water on every skin tone." After playing with this palette (and many, many others), I definitely believe that claim!

Pat McGrath states that two shadows in this palette are duochrome. My guess is that two Astral shades, Astral Venusian Orchid and Astral Amethyst Moon, are technically the duochromes, although the description of Cosmic Bloom mentions a duochrome effect. I see a slight shift in Cosmic Bloom, but it is harder to catch than the shifts in the other two.
Blitz Sextreme (gotta love those sexual references!) is the triochrome, the brand's name for the popular finish most indie lovers know as "multichrome."
The two Astral Shades and Bronze Solaris 005 are of the fan-favorite formula often known by PMG-lovers as "special" shades. You can recognize this formula by the prefixes "Astral" or "Blitz" or a three-digit suffix (like "005" here). There are normally 4 "special" shadows in every palette, with the exception being the two most recent Motherships, which included triochromes in place of a fourth special shade. Accordingly, Blitz Sextreme, is not of this formula, but is surely special in its own right.
Color Descriptions
Mothership IX Huetopian Dream Swatches
Bonus: Huetopian Dream Meets the Amalfi Coast
I recently took Huetopian Dream on my honeymoon trip to Positano on the Amalfi Coast. Here she is basking in the sunlight and enjoying the view!
I can't tell you what's more beautiful in the last group of photos – the Positano setting or Huetopian Dream. Please don't make me choose. 🙂
The palette exceeded my expectations in terms of the color scheme. I am firmly in the camp of "If you really loved us, you would stop releasing a gold in every palette" which lately has turned into "I wish to permanently retire golds and pinks from Pat McGrath's collection." But if I look past the overused colors, I think this palette is very cohesive and a fun addition to my ever-growing PMG collection. I get where the brand was coming from with the rainbow imagery used to tease the launch of this palette, although I do wish they more strongly committed to a rainbow color scheme. I have seen enough mauve mattes from Pat McGrath to last me a lifetime — okay, maybe not a lifetime, but at least a few years!
The shadows are on par with previous shadows in these formulas. I have absolutely zero complaints when it comes to blendability, payoff, and shine. I do feel a bit of déjà vu when I look at Skinshow Nude Xtasy (and a bit of cringe when I read that name — yikes!), but not nearly as much as when I look at Bronze Solaris 005. I am *this close* to adding satin-y champagnes to my petition of colors to stop including in every release.
These small complaints should not bother someone who is not a Pat McGrath collector like me, but if this is not your first Mothership, you may want to join me in this petition. If you do not have many Motherships, or if you prefer to judge palettes as standalone products and not parts of a quite large catalogue, I don't see how you could not fully enjoy Huetopian Dream. It is a gorgeous palette with amazing shimmers and a good assortment of mattes (a muted mid-toned matte, a bright mid-toned shade, and a deep matte) that will allow you to create beautiful, varied looks without having to branch out into other palettes if you don't want to do so. And I will never get over just how amazing those special shades, and even Cosmic Bloom, Bronze Desire, and Blitz Sextreme, look in the pan, swatched, and applied to the eyes. Despite my complaints over the lack of rainbows, the overly used shades, and the sex-ifying of perfectly fine shade names, this is probably my new favorite Mothership.
What do you think? What are you hoping the brand brings us — or stops bringing us — in 2022?