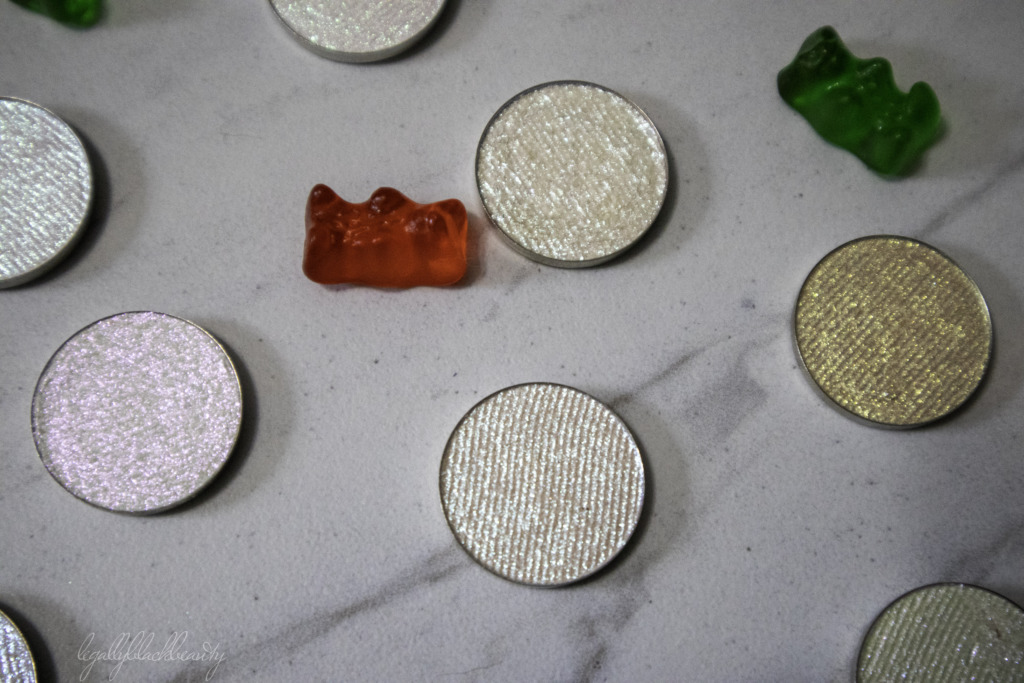 You can save using my code LEGALLYBLACKBEAUTY at Devinah Cosmetics (affiliate). Thank you for your support!
In honor of the impending super sales, I am going to be posting a ton of swatch photos over the next week. I'm starting with the Sugar Drops collection Devinah Cosmetics, mostly because these flatlay photos have been sitting in my files since July 4th and elders deserve respect.
The Sugar Drops collection consists of nine super sparkly and shiny shadows. They appear white in the pan, but do not underestimate how beautiful these shadows are! As I'm writing this, my hand is covered in micro sparkles and I cannot stop feeling like this is such A Look™.
Coincidentally, Devinah released the Sugar Drops last year on Black Friday. If you've been thinking about these for a year, maybe now is the time to finally add some of them to your cart for good.
General Information
Color Descriptions
General Information
Devinah's Sugar Drops are sheer, sparkly, shifty eyeshadows comprised of micro shimmers. They have a semi-transparent base so they can be used as eyeshadow toppers or to highlight your inner corner. The textures are smooth to the touch.
Devinah recommends applying the Sugar Drops over a tacky base or glitter primer. The swatches below are over a light layer of regular eye primer. Devinah also recommends layering the Sugar Drops over a white or black base for more options.
Color Descriptions
I love the Sugar Drops collection. I love popping an iridescent shifty shadow in my inner corner, and the Sugar Drops are extremely fun to use because of their micro-shimmer effect.
Boom Sour is one of my favorites, although the shift is the hardest for me to capture on camera and in person. The primary color is a beautiful light blue or teal. At some angles, I see a green shift. At others, I think I see a purple shift. But the shifts are the most subtle of any of the Sugar Drops, at least on me.
Sugies is also gorgeous. That green is so bright and I am a huge fan of purple-and-green combinations.
I could go on and on about how beautiful each and every Sugar Drop is, but I'll spare you the novel…this time! Just know that you cannot go wrong with any of these Sugar Drops. Hopefully this post has satisfied your sweet tooth!