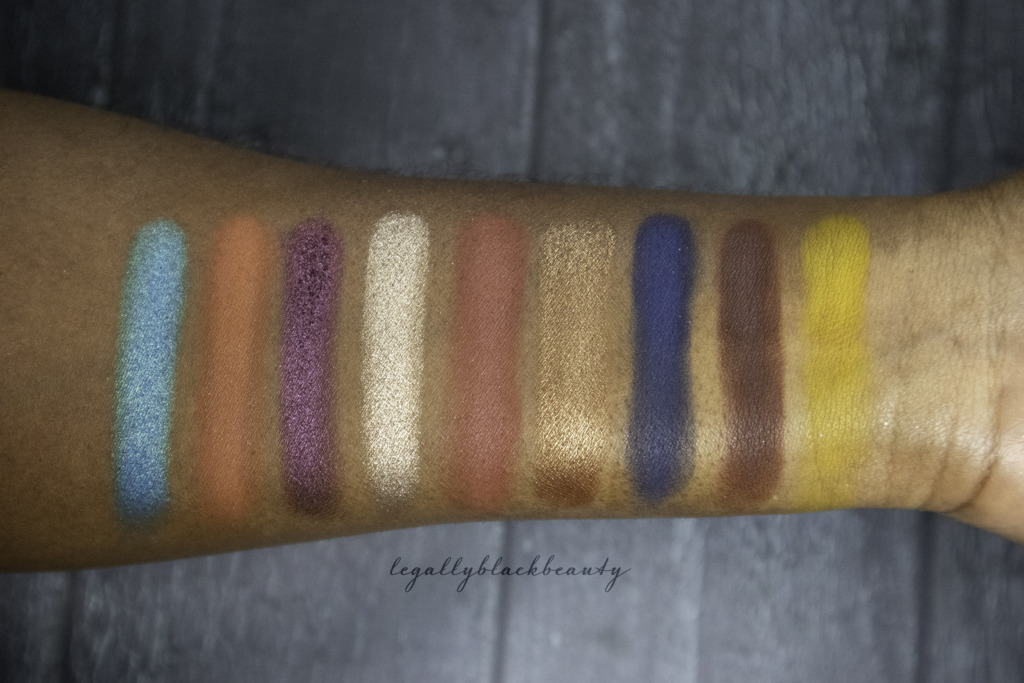 Emme Cosmetics just released two versions of their new Monet Jasper palette, inspired by the beautiful gemstone of the same name. Both palettes are comprised of existing shades, so you can pick up singles if you do not want the full palettes. I've got the deeper version (obviously), Version II, to show you all. Version II is most suitable for those with medium to deep skin tones. Both versions are available now.
Unfortunately, I don't have flatlay photos to show you all. Several shadows in my palette arrived broken and I have been too consumed with other things to repress them. I also don't have the cute Monet Jasper design on my magnetic palette. Rest assured, Emme is taking steps to make sure none of the consumer palettes arrive broken. The shadows will come individually packaged to protect them in transit.
Make sure you read to the end for my thoughts on skin-tone-specific palettes.
General Information
Color Descriptions
General Information
Inspired by the Monet Jasper crystal, the Monet Jasper palettes are two colorful palettes comprised of 4 shimmer shades and 5 matte shades. All of the shades in both palettes are unique to those specific palettes, so you will not receive duplicate shadows if you buy both versions.
Version I is suitable for those with light to medium skin tones, while Version II is suitable for those with medium to deep skin tones.
Again, the shadows in both palettes are also available to purchase as singles.
Color Descriptions
General Information
Color Descriptions
General Information
Sweet Reef is my "under the sea" palette. The first row is my favorite row in the palette and would make a beautiful look by itself. If I had the choice, I would have made the bottom row more purple-heavy. Unfortunately, Lethal does not have many purples–or at least they didn't when I purchased these palettes last winter. You'll see when I post my photos of the new After Dark palette that they added three purple eyeshadows to their catalog this year.
Color Descriptions
If you haven't tried Emme's formula yet, this is the perfect opportunity to do so. They have some of the best mattes and shimmers in the game. And it's nice to support a Canadian indie brand!⠀
And now for the essay I didn't intend to write…⠀
I love that more brands are offering multiple versions of their palettes to suit more skin tones. But I just want to take a moment to share why and when this is most appreciated. ⠀
Creating skin-tone-specific versions of palettes is especially important for palettes designed to create "soft" or "natural" looks. A shadow that is soft or muted on light skin will often look ashy or chalky on dark skin. A "nude" crease shadow for light skin is not anywhere near nude for dark skin. And, when brands are specifically creating "nude" palettes, it's important to keep in mind that medium skin tones need to be represented too, as palettes designed for light skin and those designed for dark skin typically won't create the intended "natural" effect on medium skin. (I often see people saying "there are hundreds of skin tones, it's impossible to please everybody"; The first part is true, the second misses the point because we are not asking for hundreds of options—just enough to recognize the primary groups most skin tones fall within.) ⠀
For palettes designed to be impactful and pigmented, one version is typically enough, as long as the shadows are deep and rich enough for dark skin—what works for dark skin will work for light skin, but it does not go the other way around. If you have light skin, you may not like deep or rich shadows on yourself, but that's a matter of individual preference, not a near-universal opinion about what is flattering on your skin tone. (If you don't believe me, ask the light skinned people who buy "deep" versions of palettes.)⠀⠀
One more thing—when we are talking about skin color, it is confusing and often incorrect to speak in terms of race. Representation of different skin tones and racial representation or two different, albeit important, things and it does not do either cause justice to conflate them. Not all POC have medium or deep skin, not all all black people have deep skin, and not all deep skinned people are black. When you are making purchasing decisions, it's important to find swatches of products on a skin tone similar to yours, regardless of race. When you are seeking to feel represented or a part of a marketing campaign, racial representation can be an important factor. They are two related but different types of representation. ⠀
All that to say, well done, Emme!