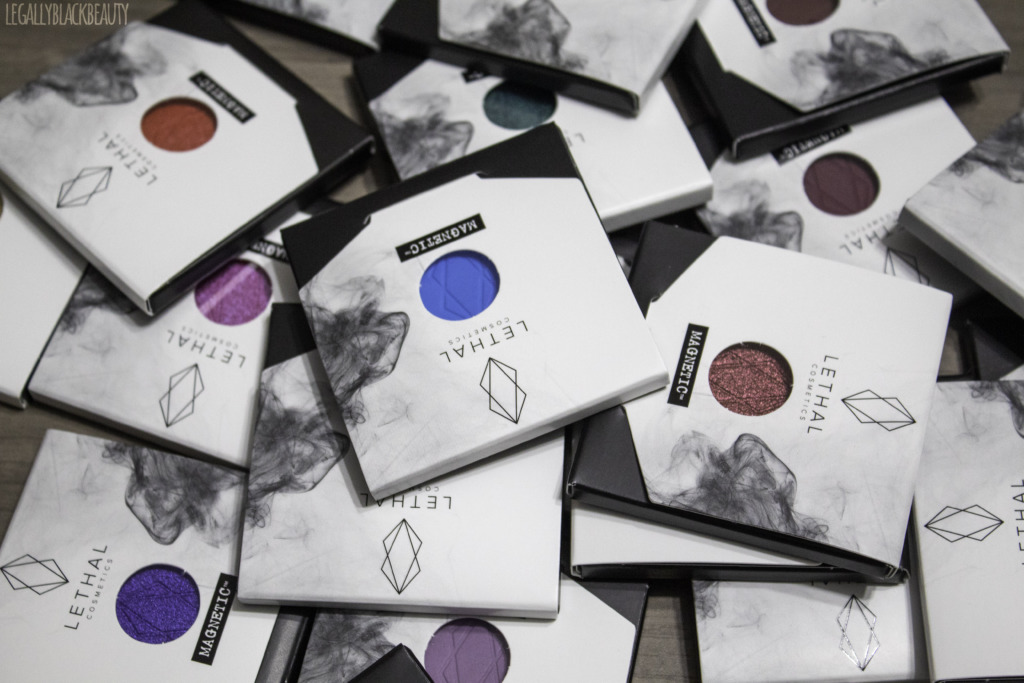 Almost a year later, I am finally ready to reveal my custom Lethal Cosmetics palettes. There's no reason these took nearly eleven months to post other than the fact that not everything can get posted right away. I'm slowly making my way through my huge backlog of photos.
For those who don't know, Lethal Cosmetics is a German indie brand. They have a great reputation for quality products and, in my opinion, have a pretty enjoyable social media presence. This year, they hired the most adorable social media manager and I look forward to seeing their posts and stories every day. They also create great photographic content, always making sure to show their products on a range of skin tones that includes more than just one light, one medium, and one dark complexion.
For this post, I am showing off the two custom palettes I created for my first Lethal haul. The palette builder on Lethal's website is one of the best I've seen. It is very easy to create your perfect combination of colors and experiment with different placements for the eyeshadows. I wish there was a feature that allowed you to see what you already used in another custom palette though. But building palettes on the website is still a pleasant experience overall. Lethal ships the empty magnetic palettes and the singles separately, so if you find you don't love the placement you chose in person, you're free to change it (like I did!)
The two palettes below, which I have named Hot Moss and Sweet Reef for reasons that are now beyond me, are from my very first order with Lethal. I am also including some flatlay pictures of my first haul, including shots of the beautiful packaging.
I was blown away by the beautiful packaging of the Lethal singles. I loved that each single came with a magnetic and there was even a cute little "secret" area that you would find if you removed the whole center piece (which was not necessary — you could easily pop out the magnetic without taking the packaging apart).
Why am I speaking in past tense, you ask? I am pretty sure Lethal changed their single eyeshadow packaging early this year to make it thinner. If I remember correctly, new singles do not come with magnets.
General Information
Color Descriptions
General Information
Don't ask me where I got the name Hot Moss from. All I know is that I was trying to capture the reds and greens of this palette with the name. This palette gives off very earthy vibes. Although it is comprised mostly of reds and greens, I don't view it as a complementary-toned palette and definitely don't consider it a Christmas palette.
Color Descriptions
General Information
Color Descriptions
General Information
Sweet Reef is my "under the sea" palette. The first row is my favorite row in the palette and would make a beautiful look by itself. If I had the choice, I would have made the bottom row more purple-heavy. Unfortunately, Lethal does not have many purples–or at least they didn't when I purchased these palettes last winter. You'll see when I post my photos of the new After Dark palette that they added three purple eyeshadows to their catalog this year.
Color Descriptions
You've probably heard a lot of indie lovers rave about Lethal's eyeshadow formulas and they were not exaggerating. The mattes are smooth and pigmented. The shimmers are reflective and impactful. The embossing on the pans are a nice touch to an already great product.
Aether, Enigma, and Yonder are my favorite shadows of these palettes. Yes, they are all from Sweet Reef, but y'all know I love cool colors like green, blue, and purple.
I have two more custom palettes and two premade palettes to show. Spoiler alert: we started with my favorites. Second spoiler alert: the next two custom palettes have a Mean Girls theme! I can't wait to show you all.