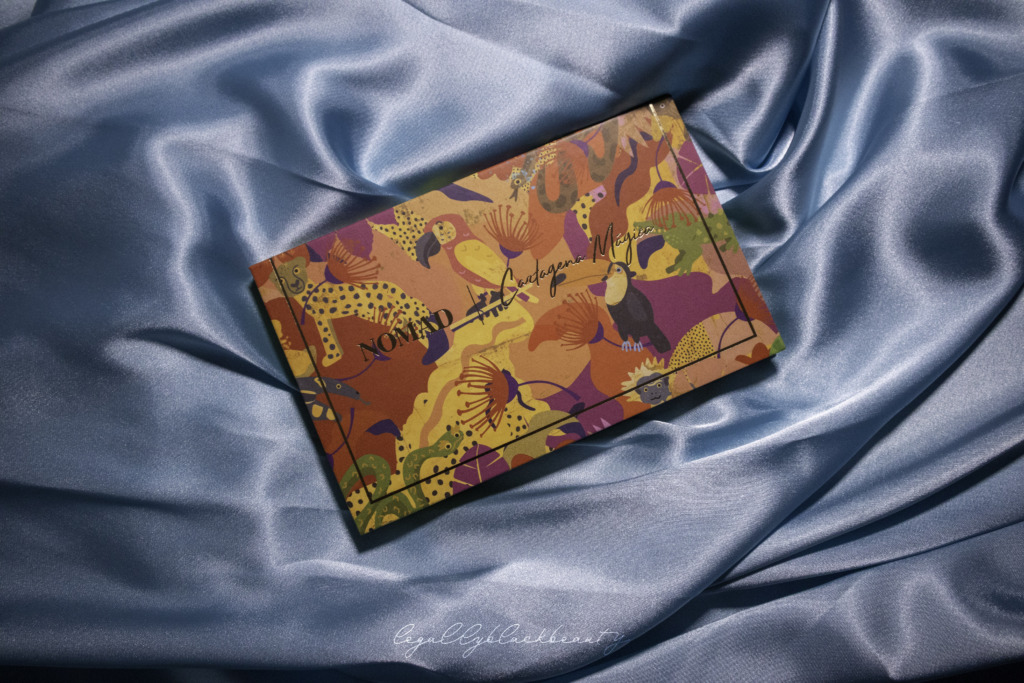 Today's destination: Cartagena, Colombia!
Nomad Cosmetics recently launched the Cartagena Mágica palette. If you are familiar with Nomad, you know that their branding centers on travel. Each of their products is inspired by a particular destination, inside the United States or outside. On Instagram, I spoke about some issues with the previous palette, Orient Express, particularly, the term "orient" and the fetishization of people from Asian countries to which the Orient Express train contributed. (I also spoke against all of the beiges in that palette, so you'll see the owners left me a funny note about this palette in the postcard they sent.) Additionally, an interesting conversation about the ethics of travel-centered makeup sparked in the comments of that post. So I want to take a moment to share some of the information about Nomad that the co-owner, Felicia, gave me. (For consistency purposes and to keep with the travel theme of the brand, I will use the term "destination" instead of words like "country," "city," or "location.")
Nomad's brand philosophy is simple — everyone should be able to wear whatever makes them feel beautiful, regardless of current trends in colors, finishes, or types of looks. This philosophy informs the decisions the brand makes (and explains why they released a bright, warm palette after summer ended in their home hemisphere!).
When creating a product, Nomad undergoes a 3-step process. First, they come up with a list of possible destinations. They consider a variety of factors, including the cultures, continents, potential color palettes, and trends of the destinations. They also consider consumer feedback, including the destinations consumers suggest. Second, Nomad begins a research and design phase. They conduct online research by reading books, studying the destination's history, and speaking to people from the destination that they know. They also research the destination in person, usually after having narrowed down their list of potential destinations. While visiting the destination, they stay at locally-run places of accommodation, go on tours, and speak with the residents to get an understanding of what makes that destination unique. They then return to their workshop and begin creating the makeup product, using details of their research to decide shade names, key ingredients, design and colors, and the embossings on their products. Third, they begin the launch phase. Starting with Cartagena, they also now interview people from their chosen destination and add those interviews to their blog.
Obviously, the owners can't travel to their destinations given the current state of the world. Their most recent destinations have been places they have already visited, but they intend to resume designing products on location once the pandemic no longer stands in the way.
Felicia also shared that some of Nomad's launches are tied to "give back" programs. Having a collection inspired by Sydney, they donated thousands of dollars to an organization working with wildlife caught in the bush fires that took place earlier in 2020. Along with their Studio 54 collection, they donated thousands of masks to frontline nurses in New York City hospitals fighting the COVID-19 pandemic. They also regularly donate to Union Settlement, a program in Harlem that organizes social programs for the community.
I hope this gives you all a better understanding of Nomad. The owners are obviously privileged to (normally) be able to design products based on the various cities and countries they visit across the world. But I appreciate that they try to use their passion for travel to represent their destinations authentically.
General Information
Color Descriptions
General Information
Cartagena Mágica is a fifteen-pan palette with nine mattes and six shimmers, inspired by "the vibrant hues of Cartagena's sun glowing plazas, golden churches, coral homes & flower covered balconies." The shadows are infused with rosehip oil, which nourishes and enriches skin.
Nomad recommends applying the eyeshadows over eye primer, after tapping your brush to remove excess powder and prevent fallout. Nomad also suggests layering shadows to provide extra dimension.
Color Descriptions
From what I can tell, Cartagena Mágica beautifully captures the scenes and spirits of Cartagena. I am in the middle of a cool-tone phase personally, but the warm tones of this palette jump out to me and get me excited to use them. This palette was a lot of fun to shoot and to play with.
Toda la Vida is one of my favorite shades in the palette–maybe one of my favorite mattes in Nomad's entire catalog. It's a beautiful chartreuse that can appear more yellow or more green depending on its surroundings and how the light hits it. It does need to be pat on for opacity, though.
The palette seems a little monochromatic (which Nomad even concedes in their description), with a few yellows breaking up the corals and pinks. For me, the palette does not contain as many deep shades as I prefer for my looks. Otro Demonios is the only matte deeper than my skin tone (when blended), but I prefer to go a bit deeper than that on my outer lid. Also, I like to have a few deepening options when creating eye looks. Honestly though, this isn't a huge problem for me. With a collection as big as mine, I rarely use a single palette only. But regardless of my personal application preferences, I do not consider Cartagena Mágica a comprehensive, standalone palette for myself. Again, this doesn't hinder my enjoyment, but it might for others. If you have deep skin and are considering adding this palette to your collection, consider your own application preferences and whether the depth here will prevent you from fully enjoying the palette yourself.
All things considered, I am happy to have Cartagena Mágica. The packaging is beautiful, the colors are vibrant and exciting, the formulas are Nomad's usual quality (soft mattes, sparkly shimmers), and the postcards are always a nice touch. I can't wait to see where we're going next.