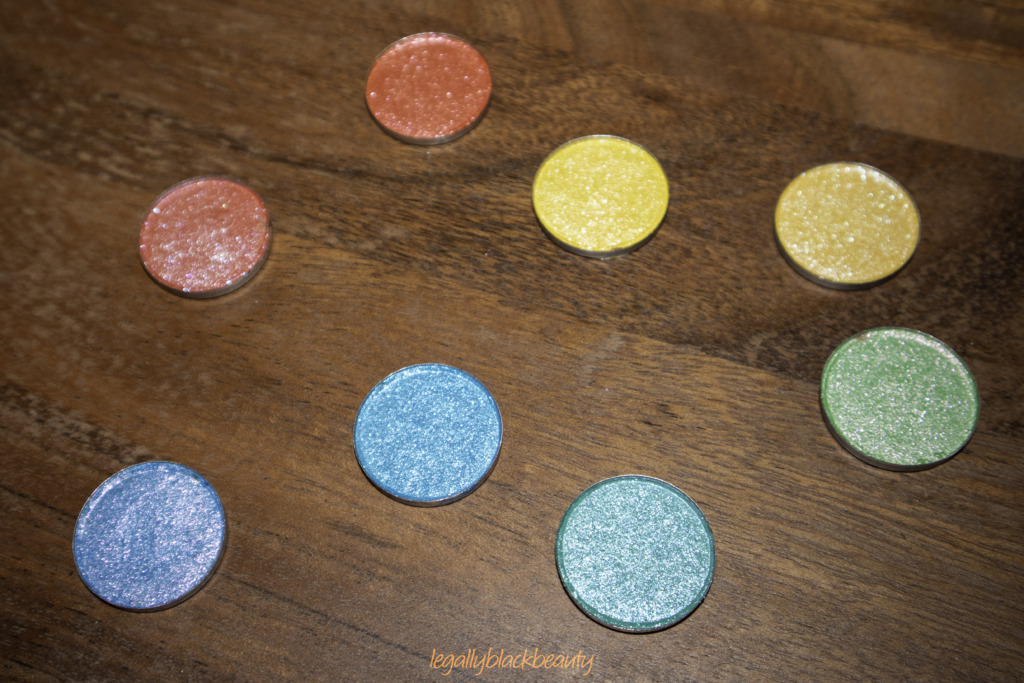 You can save using my code LEGALLYBLACKBEAUTY at Shine by SD (affiliate). Thank you for your support!
Shine by SD sent me one of their new additions to their catalog, the Brighter Days collection. This collection and I have been through a lot in our short time together. But after four swatch sessions, these beauties are ready for their debut!
I was clearly not at my best this past week. After forgetting a shadow in my Devinah Galaxy Dust swatches, I also forgot to swatch a whole shadow here too and again did not realize that until I was labeling the photos (so y'all get double the swatch photos – yay!). I hope I won't have any more surprises when I look at the rest of the swatches I did this week. But at least I know there are brighter days ahead! (wink)
Also, I am posting these swatches in preparation of Black Friday. I want you all as many swatches as possible to help you make your purchasing decisions, whether you decide to add all of them to your cart or need help crossing some off your list. I highly recommend checking out Shine by SD if you are shopping indie brands that weekend. Shine by SD is a Black-owned, Canadian indie and your dollars will be supporting an awesome owner. Their sale will be 15-25% off with no code needed for the discount.
I do have an affiliate code (see above) which you can use most of the year, but I'm not sure if you'll be able to use it for Black Friday. But I do have an affiliate link you can make your purchases through. If you want to support me, just click the "Visit Shine by SD" button above. You can also find the link through the Codes section of this website (also linked above).
Alright now, let's brighten our days with some flatlay photos and swatches!
About the Brighter Days Collection
General Information
Color Descriptions
General Information
The Brighter Days collection from Shine by SD Cosmetics is a collection of eight bright duochrome shadows. The shadows are sparkly and thin. The collection can be purchased as a bundle for a retail price of 95 CAD and the shadows can be purchased individually for 13 CAD each.
Color Descriptions
This collection definitely brightened my day (last pun) when I received it. The shadows put me in such a good mood when I use them–or swatch them as I have been doing a lot lately! The shadows are all mostly soft, but have a very slight gritty texture to them. They apply wonderfully on my lids.
Hurting Me is one of my favorites. It reminds me of a green apple candy from my childhood. It also kind of resembles a watermelon, going from pink to white (it's actually a very light yellow) to green at some angles. I guess this is also the shadow that makes me the most hungry.
I also really love Brighten My Day. Who is surprised at this point? And I know I really disrespected Keeping It Real by leaving it out of most of these swatches, but that beauty has a special place in my heart as well.